COLT MEMORIAL

JAMES "EARL" McCLENDON ~ Class of 1934
September 11, 1916 - December 10, 1993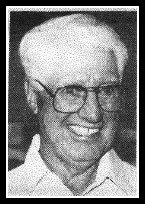 On December 10, 1993, James Earl McClendon peacefully joined our Lord Jesus Christ. He will be missed by his family as a caring husband, father, and grandfather, and by all who knew him as a loveable, gentle man.

James Earl McClendon was born on September 11, 1916, in North Powder, OR, to George and Mattie McClendon. The family moved to the Finley area in 1920 and then to Richland shortly after. Earl attended Richland High School in its infancy and became one of the school's early renowned basketball and track athletes. Although the school has changed many times since his graduation in 1934, his picture still graces the gymnasium hallway.

After graduating from Richland, Earl traveled to Seattle to attend Washington Technical School and study diesel engine engineering. He later returned to the Tri-Cities where he worked as a mechanic and met his wife to be, Esther K. Kippes. On October 27, 1940, they were married and Earl built them a home in Kennewick where they lived until his death.

Earl was talented... he was especially skilled at fixing about anything. As his grandchildren would say, "Grandpa can fix it," whenever anything was broken. During WWII, the Navy utilized his talent to repair aircraft, and following the war he worked as a carpenter for Murray Construction Company, building many of the local schools. After some time in construction he obtained postal route contracts and opened a small fleet of mail trucks throughout Washington State. Finally, in 1974 he joined the Kennewick School District and worked as a carpenter. He retired in 1978.

The memory of Earl will remain with his wife of 53 years; his four daughters, Helen Scott of Issaquah, Rita Stancik of Richland, Eileen Wolford of Walla Walla, and Bernice Furukawa of Spokane; his sister, Pauline McClendon Avery ('34) of Pasco; his brother, Milo McClendon ('37) of Everett; his ten grandchildren; and many other relatives and friends.

A Rosary in Earl's memory was held at Mueller's Chapel of the Falls in Kennewick.

Funeral Mass was December 13, 1993, at St. Joseph's Catholic Church, Kennewick, with Father Desmond Dillon presiding.

Burial will be at Desert Lawn Cemetery.

Memorial contributions may be made in Earl's memory to the American Lung Association of Washington, 2625 - 3rd Avenue, Seattle, WA, 98121 or National Kidney Foundation of Washington, 10323 S.E. 13th Place, Bellevue, WA, 98004-6726.

"His goodness was a constant. His assistance to others was unfaltering. We will miss him."