PATRICK D. SHEERAN, Class of 1948
October 5, 1930 - September 26, 1992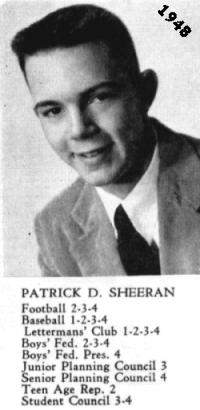 Col. Pat Sheeran, 61, formerly of Richland died Saturday, Sept. 26, 1992 in Austin, TX following a lengthy illness.

Born to Clem J. and Helen Sheeran, he graduated from Richland High School in 1948 and received his law degree from Gonzaga University, Spokane. He returned to Richland practicing law and was elected district judge.

He was the Director of the Texas Lawyers Assistance Program for the State Bar Association, a program for attorneys with drug and alcohol impairments and was recognized nationwide as the leader of that program.

Pat will be dearly missed by all those who knew and loved him.

He was proceeded in death by his wife Marge last year.

Survivors include his sons, Kevin, Burke, Dennis, John and Mark, daughter Kathleen, sisters Colleen Sheeran Jones ('56) and Katie Sheeran Johnson ('61) of Richland, Peg Sheeran Finch ('63) of Omak, WA, and Sally Sheeran Heath ('58) of Wasilla, AK, and brother Mike ('66) of Richland.

Services were held in Austin, TX.