THOMAS CLAY HARBOUR ~ Class of 1950
November 1, 1931 - April 18, 1994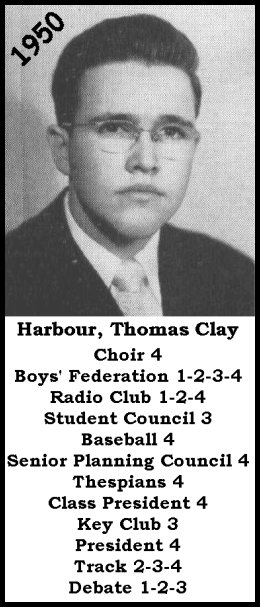 Tom was born November 1, 1931 in Durango, CO and died April 18, 1994 at the at the Woodland Memorial Hospital in Woodland, CA. He married Patricia Burns ('50) on November 15, 1950.

His hobbies included scuba diving, woodworking, and family genealogy. Old friends (those still around) may recall he was active in student government all through high school, and served as Senior Class President for the Class of 1950. The Korean War started in June of 1950, our graduation time, and he enlisted in the United States Marine Corps in November of 1950. He served from 1950-1953 and was severely wounded in action in Korea, 1952. Several friends soon joined (or were drafted) into the military and some died early in the Korean conflict. He had many good (Great!!) friends, most of whom are now deceased also.

He attended WSU 1954-1958 and received degree in Business Administration. At time of his death he was retired (1991) from the University of California, Davis campus, where he had been employed for 26 years.

He was a life member of the Veterans of Foreign Wars. He was a sportsman, craftsman, accomplished week-end mechanic and active in local and church affairs., He loved and was beloved by people.

He is survived by his wife Patricia, son Tom, Jr. of Santa Clarita, CA, daughter Viccie Harbour of Shoup, ID, 4 grandchildren, and brothers Jack Harbour of Pasco and Jim Harbour ('55) of Richland; sisters Dorothy Puckett of Port Angeles, WA and Jessie Harbour Atteridge ('53) of Beaverton, OR.

A memorial service was held on April 21st in the Woodland Chapel of the Church of Jesus Christ of Latter-day Saints in Woodland. "Perhaps there is a 'Richland High Bombers' group getting together and laughing about the good old days, up there beyond the pearly gates! I like to think so!" Regards, Pat.