BOMBER MEMORIAL

JAMES MICHAEL "MIKE" McLAUGHLIN ~ Class of 1958
March 26, 1939 - July 22, 1969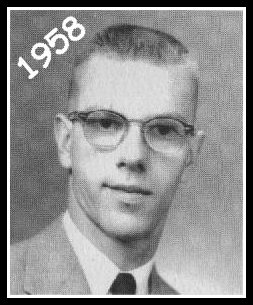 Mike, 30, of Richland, died July 22, 1969, at Kadlec Methodist Hospital. He was born March 26, 1939, in Cedar Rapids, IO.

Mike was self-employed in rental properties. He graduated from Columbia High school in 1958, and attended Columbia Basin College.

He was a member of Westside United Protestant Church and 100F No. 328, Richland.

Survivors include parents, Mr. and Mrs. James C. McLaughlin, and sister, Patricia "Patti" ('65).

Services were held at Einan's Funeral Home with Rev. Alan G. Reutter officiating. Burial and graveside services were in Cedar Memorial Cemetery in Cedar Rapids, IO.

Published in the Tri-City Herald on July 23, 1969.

--from Patti McLAUGHLIN Cleavenger ('65):

As you can imagine, this was a confusing time. I was going to summer school after graduation at WSU, just for fun. My parents had not even phoned me to tell me that my brother had been in a car accident. I'm sure they were hoping he would live. He had been in the hospital for exploratory surgery and died in the night. A family friend came to pick me up in Pullman and did not tell me that my brother was dead until we pulled up in front of our house in Richland. So I never got many facts straight. We had a funeral here, then took the train to Cedar Rapids, Iowa, where my family came from (I was born here in Richland). Mike, my mom and dad are buried in Cedar Rapids. Mike graduated in 1958. He and my mom were in Seattle to see the Bombers win the state basketball title. Dad was on call with his job at Hanford, so we had to listen on the radio. I was only 11, but I do remember. I wish one of Ray Stein's teams had won the title. They certainly deserved it. Of course, we attended all those tournaments.

Bomber Memorial put together by Shirley COLLINGS Haskins ('66).