BOMBER MEMORIAL

LAWRENCE W. "LARRY" FRYMIER ~ Class of 1963
1945 - November 17, 1982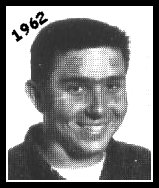 Larry, 37, of Kennewick, died November 17, 1982, in Seattle following a long illness. He was born in Richland and graduated from Richland's Columbia High School in 1963. From 1963 to 1967 he served in the U.S. Navy and saw action in Vietnam.

Following the war he attended the University of Washington in Seattle and graduated in 1971 with a degree in environmental design. He practiced architecture and taught night courses at Columbia Basin College before establishing Frymier Architechts in 1977.

He was a member of the Southeastern Washington chapter of the American Institute of Architects, the Pasco Elks Club and the Columbia Center Kiwanis.

He is survived by his wife, Sharon; daughters, Autumn and Amber; parents, Mrs. and Mrs. James W. Frymier, Sr.; brothers, James Frymier, Jr. ('61), Ronald Frymier ('69) and William Frymier ('77).

Memorial services were held November 25, 1982, in the Tri-Cities Funeral Home in Kennewick. Private burial services followed.

Memorials may be made to the Fred Hutchinson Cancer Center for family assistance c/o the Tri-Cities Funeral Home.

Published in the Tri-City Herald on November 20, 1982.

Bomber Memorial put together by Shirley COLLINGS Haskins ('66).