BOMBER MEMORIAL

TERRY DEAN CANOY ~ Class of 1967
May 5, 1948 - April 28, 1999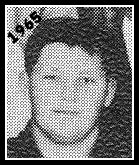 Terry Canoy, 50, passed away April 28, 1999, in Spokane.

He is survived by three sons, Todd Canoy, Troy Canoy, and Chad Canoy; three daughters, Jennifer Ferguson, Patricia Peterson, and Marie York; ten grandchildren; two brothers, Leon Canoy ('57) and Ronald Canoy ('59); and his significant other, Joni Iddins.

He was a member of the Laborers Union Local 4038 for 16 years. He enjoyed fishing at his home on Badger Lake with his grandchildren.

Visitation was on, May 1, 1999, and funeral services were on May 2, 1999, at Hazen & Jaeger Valley Funeral Home, Colonial Chapel, Spokane.

Published in the Tri-City Herald on April 30, 1999.

File put together by Shirley COLLINGS Haskins ('66).