BOMBER MEMORIAL

JAMES WILLIAM OSBORNE ~ Class of 1967
June 17, 1949 - August 3, 1982







James Osborne, 33, Richland, machinest for Sigma Research in Richland, died August 3, 1982, at his home. He was born in Richland on June 17, 1949, and lived in the Tri-Cities all his life. He attended Christ the King Catholic School and graduated from Columbia High School in 1967.

He was a member of Christ the King Catholic Church.

Survivors include parents, Mr. and Mrs. Leonard Osborne and siblings Gene Osborne ('55), Joan Osborne Workman ('60), Janet Osborne Jacobus ('61), and Jon ('69).

Private family services were conducted at Einan's Funeral Home, and burial was in Sunset Memorial Gardens.

Memorials may be made to Christ the King Catholic Church at 1122 Long Avenue in Richland.

Published in the Tri-City Herald on August 5, 1982.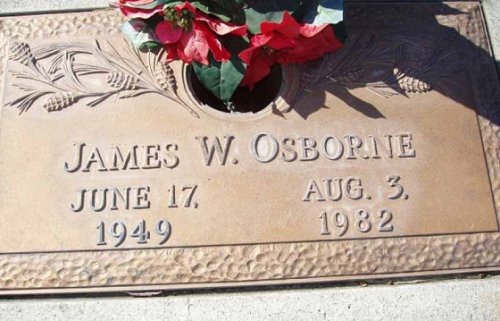 File put together by Shirley COLLINGS Haskins ('66).