BOMBER MEMORIAL

PAUL CLAY SPILMAN ~ Class of 1967
September 24, 1949 - August 16, 1987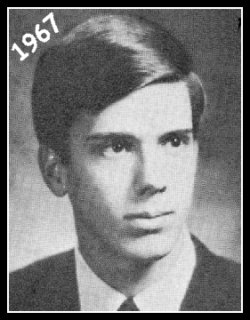 Paul C. Spilman, 37, of Kennewick died Sunday, August 16, 1987, at Kennewick General Hospital. He was born in Richland on September 24, 1949, and has lived in this area all his life. He was an architecht for Kaiser Hanford Engineering.

He was a member of St. Joseph's Catholic Church in Kennewick, The American Institute of Architechts and the Tri-Cities Remote Control Model Airplane Club.

He graduated from Columbia High School in 1967, attended Columbia Basin College and graduated from W.S.U. in 1971 with a degree in architecture. He worked for Pence and Associates in Pasco prior to going to work for Kaiser.

He married Cynthia Chase at St. Patrick's Catholic Church in Pasco on July 25, 1981.

He is survived by his wife, Cynthia; daughter, Anne; mother, Pat Spilman; father, Ray Spilman; sister, Trudy Spilman Freese ('66); and brothers, Blake ('68) and Mark ('76).

A rosary service was held on August 18 at Christ the King Catholic Church in Richland. A memorial Mass of Christian burial was held on August 19 followed by a graveside service at Sunset Memorial Gardens.

Memorials may be made to the Washington State Heart Association in care of Mrs. G. R. McKinney, 511 Symons, Richland 99352.

Published in the Tri-City Herald on August 18, 1987.

NOTE: Paul's brother, Mark ('76), passed away in 2009.





File put together by Shirley COLLINGS Haskins ('66).