BOMBER MEMORIAL

DANIEL L. "DAN" WAGENAAR ~ Class of 1967
December 19, 1948 - July 12, 1969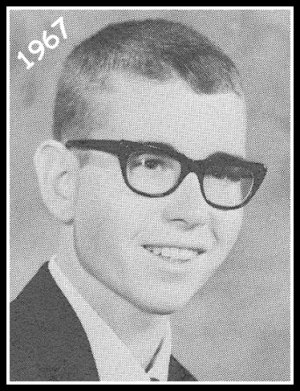 Dan, 20, of Richland who was killed in Vietnam on July 12, 1969. He was born December 19, 1948, in Richland to Gil and Elaine Wagenaar. He had two sisters: Dana, who died at the age of 14 in a car accident about 1972, and Dale Wagenaar Pritchett ('69) (Blaine) ('67).

Dan attended Marcus Whitman Elementary, Carmichael Junior High School and graduated with the class of 1967 from Richland's Columbia High School. He also attended one year of college at Montana State majoring in forestry.

He was active in the Boy Scouts, member of search and rescue and received his Eagle Scout Award after he graduated high school. He loved the outdoors, hiking, swimming and camping. A relaxing day for him was running up and down the mountain.

Dan enlisted in the U.S. Army in September, 1968, and was sent to Vietnam in February, 1969. He was killed on Black Virgin Mountain in Vietnam in 1969. Dan was a gunner on a track. The track was disabled, and as he went on foot they were hit with a cross fire from the enemy. Numerous casualties were laying out in exposed positions. He crawled back up and held off the enemy, providing first aid until the wounded were evacuated. At that time, Dan was mortally wounded. He received the Silver Star for his actions in addition to the Bronze Star and Purple Heart.

Excerpts from the letters he wrote home to his parents, grandparents and sister were put together by his mother in a library journal "Letters from Nam". He talks about being in awe of Vietnam as it was such a beautiful country but how so much tragedy was going on over there.

There is a building named after Pfc. Daniel L. Wagenaar in Washington, D.C., and the former Pasco National Guard building is named in honor of Dan and Marine Sgt. Travis D. Pfister ('97 HHS graduate who was killed February 7, 2000, near Baghdad, Iraq, and was the first HHS graduate to be killed in the military.)

Services for were held July 21, 1969, at Westside United Protestant Church. Rev. John Zimmerman officiated. Burial followed at Sunset Memorial Gardens. Those wishing to make memorials may do so to the Boy Scouts of America c/o E. A. Wegener, 2309 Humphries Street in Richland.

Information provided by his sister, Dale, on February 13, 2014, and the funeral notice was published in the Tri-City Herald on July 20, 1969.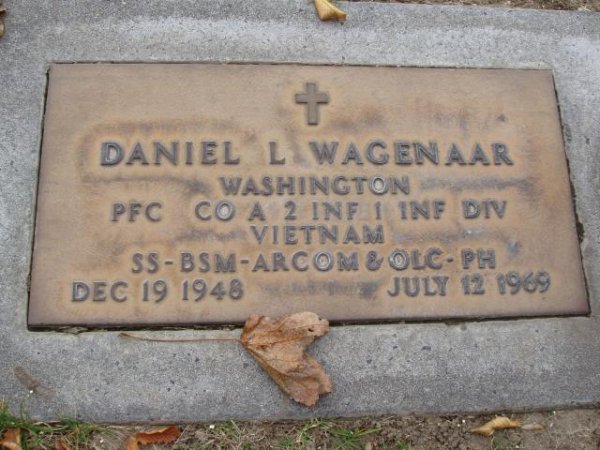 Bomber Memorial put together by Shirley COLLINGS Haskins ('66).