EVELYN CHI-KUEN YEN ~ Class of 1978
1956 - 1984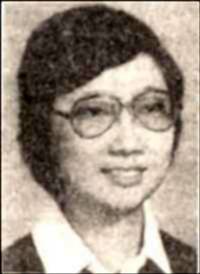 Evelyn, 28, of 1430 Johnston, Richland, died Wednesday at Kadlec Medical Center.

She was born in Hong Kong and came to the Tri-Cities in 1972. She was graduated from Richland High School and attended Columbia Basin College. She was an orthodontistís assistant for Dr. James A. Dart.

She was a member of the Bible Way Church.

Survivors include her parents, Mr. and Mrs. Woon Yen of Richland; her grandparents, Mr. and Mrs. Pon-Kueng Yen of Canton, China and Mei-Yee Lui of Hong Kong; cousins Stewart Lau of Richland, Mr. and Mrs. Wyman Lew and Linda Lew, all of Kennewick, and Sum Lau of Seattle.

Funeral services are scheduled for 2pm Monday at Einanís Funeral Home. Graveside services will be held at 2pm Tuesday at Evergreen-Washelli Cemetery in Seattle.

Friends may call from 9am to 5pm today and 9am to 4pm on Sunday.