BOMBER MEMORIAL

FLORA "JEANE" FARABEE BALDWIN ~ Class of 1946
1928 - December 5, 2002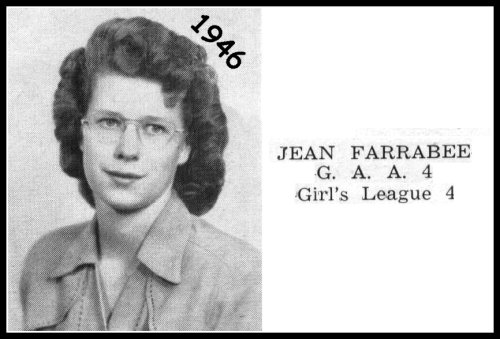 She always cheated at solitaire because she couldn't stand to lose a hand. But otherwise, Jeane was a brutally honest, grand old lady who, according to her colleagues, couldn't tolerate anyone with a glass-is-half-empty attitude.

"She was a tough old bird and that's how she wanted to be known," Duvall, WA Police Chief Glenn Merryman said of Mrs. Baldwin, who served 17 years on Duvall's City Council.

Diagnosed two years ago with a rare form of cancer that attacked her colon and lymph nodes, Jeane always brushed aside queries of her health with a brusque, "I'm fine," Merryman said. She died in her Duvall home Thursday morning at the age of 73.

"It was the first time in her life she was told it was a battle she wasn't going to win," Merryman said.

She was born Flora Jeane Farabee in Kansas City, MO, to Lloyd and Blanche Farabee. Her father did all kinds of jobs, said Carol Donnel, Mrs. Baldwin's daughter. The family moved to the Tri-Cities area in the mid-1940s, Donnel said.

Mrs. Baldwin graduated from Columbia High School in Richland in 1946 and went on to Cheney College, now Eastern Washington University. Around then, she met Lloyd Baldwin. The couple married in 1947 and in the summer celebrated their 55th wedding anniversary.

The Baldwins moved to the Snoqualmie Valley in 1961, moving into Duvall in 1974.

Three years later, Jeane was appointed to the City Council when a member resigned. She was elected to the council in 1981 and served four years before she won the position of mayor in 1985. After serving another four years, Mrs. Baldwin lost her mayoral re-election bid in 1989.

She continued to volunteer for city boards and commissions and, in 1997, was again appointed to the council when a seat became vacant. Re-elected in 1999, she was to serve on the council until next November.

"She took her job seriously, she did her homework and she cared about what was going on in the county and the state," said Gloria Judd, Duvall's city clerk for 35 years before retiring in 2001.

A lady with equal amounts common sense, wisdom and humor, she cared deeply about the city's youth, said current Mayor Becky Nixon. As a council member, she was instrumental in creating a teen recreation center, which opened earlier this week.

One of the projects dearest to her heart was a skateboard park, Nixon said. The council still needs to approve $150,000 in the city's 2003 budget to build the park, which council member Will Ibershoff has suggested be named in her honor, Nixon said.

A community memorial service was held in the Cedarcrest High School Performance Center, Duvall, WA.

In lieu of flowers, the family has asked donations be made in her name to a fund for the skateboard park. Checks can be mailed to City Hall, 15535 Main St. N.E., Duvall, WA 98019.

Jeane was preceded in death by her son, Clayton.

In addition to her daughter, Mrs. Baldwin is survived by her husband, Lloyd Baldwin; her brother, Caleb Farabee; her sons John Baldwin, Stephen Baldwin, and Thomas Baldwin; and 11 grandchildren and five great-grandchildren.

A private funeral service was held for family.