_______________________________________
I don't care WHAT it says above this line, it's an ADVERTISEMENT
It's there because this Tripod account is FREE
_______________________________________

JANET MITCHELL BEECHER ~ Class of 1959
November 30, 1941 - December 8, 2004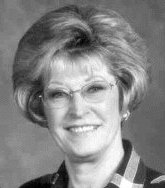 Janet Mitchell Beecher was born November 30, 1941, in Salt Lake City, Utah to Freeman Heber Mitchell and Cora Naomi Ginn Mitchell and passed away Wednesday, December 8, 2004 as a result of a three-year battle with liver cancer. Shortly after her birth her parents moved to Richland, Washington where she was raised. Janet married Leo C. Beecher in the Salt Lake LDS Temple on Friday the 13th of September 1963. She didn't want to leave her three children, all girls; Lana (Darwin) Pech, Lisa, and Lanese (Ty) Hendrickson, and three granddaughters. Janet is a committed member of The Church of Jesus Christ of Latter-day Saints. She served in all of the auxiliaries and other positions. She impacted the lives of many people. She is survived by her husband, daughters, granddaughters and brother, Derald Mitchell. Her courage, determination and positive attitude during her battle with cancer were an inspiration to her family and all those who knew her. She will be greatly missed.

Funeral services will be held Monday, December 13, 2004, at 12:00 noon at the Woods Cross 1st Ward Chapel, 2064 South 800 West, Woods Cross, Ut. Friends may call Sunday evening from 5-7 p.m. at Russon Brothers Bountiful Mortuary, 295 North Main and Monday morning from 10:30-11:30 a.m. at the church prior to the service. Interment-Bountiful City Cemetery. Online guest book at www.russonmortuary.com.

Published in the Deseret News from 12/11/2004 - 12/12/2004.