_______________________________________
I don't care WHAT it says above this line, it's an ADVERTISEMENT
It's there because this Tripod account is FREE
_______________________________________

CHARLES THOMAS RONK ~ Class of 1959
January 4, 1941 - January 28, 2004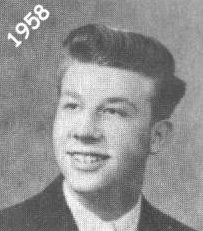 Charles Thomas Ronk, age 63, a long-time resident of Moses Lake WA, passed away in Wenatchee of Lung Cancer on January 28, 2004. Charlie was born January 5, 1941 in Lapeer Michigan to Charles & Hattie Ronk. He graduated from Columbia High School in Richland WA in 1959.

He married Barbara Holmes on December 23d, 1959. He served in the US Army Engineers from June, 1960 to June, 1963. He was a Master Mason in 1973 and was a member of the Potholes Bass Club. Charlie lived in Moses Lake for the last 39 years. He loved to fish and hunt with his family and friends.

He looked forward to his safety meeting at Sporty's. He worked for the Columbia Basin Job Corps for 23 years and then retired. His most recent job, as a GTA driver was most rewarding experience. He enjoyed his CO-workers and his riders and spoke of them often. He was a loving father, grandfather, great grandfather, brother & uncle.

He is survived by: his wife Barbara of 44 years: two daughters, Teri & Luie Garcia of Fresno, CA, Lena Ronk of Moses Lake: two sons: Robert & Roxanne Ronk and Charlie Ronk also of Moses Lake? 11 grand children and 3 great grandchildren.

A celebration of his Life was held on February 8th, 2004 at the VFW hall in Moses Lake.