ELIZABETH "BETTY" MAE JOCHEN McALLISTER ~ Class of 1946
January 6, 1928 - November 14, 2006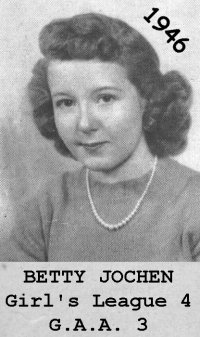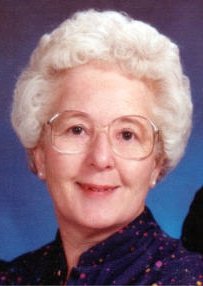 Our wonderful mother, Elizabeth Mae Jochen McAllister, 78, passed away at Quail Hollow (Richland),
surrounded by her loving family. Betty was born in Louviers, Colorado on January 6th, 1928 to
Fredrick and Joye Jochen, the first of four children. 

In June of 1946, she graduated from Columbia High School in Richland, Washington, then attended
Washington State University for a year. She began nurse's training at St. Mary's Hospital in
Walla Walla and later went to work for the Hanford Labs. Betty married her first husband in 1948
and lived in Spokane for 5 years. She relocated to Richland with her four children where she met
the love of her life, Norman W. McAllister. Married December 6th, 1959, the two families blended
6 children, adding an additional child in 1960. Betty received her license as a Registered Nurse
from CBC in September of 1969. She retired from Kadlec Hospital in 1989 after 20 years of
service, where she was a loved and respected nurse. 

Betty was preceded in death by her husband Norman and 2 grandsons, Jonathan Tunnell and Kevin
D'Abato. 

Betty is survived by one brother Buzz ('51) (Mary '55) Jochen of Weston, Oregon and 2 sisters, 
Marlene Jochen Jochen ('54) (Bill) Davies of Port Townsend and Anne Jochen ('63) (Dave) Dowdy
of West Richland. 
Surviving children include Stephen ('56) (Irene) McAllister of Salt Lake City, Arnold McAllister ('61)
of New Jersey, Penny McAllister ('67) (Ron) D'Abato of Surprise, AZ, Richard ('69) (Charlotte) McAllister
of Kennewick, Linda McAllister ('71) (Jim) Tunnell of Snohomish, Mark ('74) (Nancy Yesberger '74)
McAllister of Richland and Elizabeth McAllister ('78) (Pat) Loosmore of Richland.
Betty is also survived by 25 grandchildren and 33 great grandchildren. 

Betty faithfully attended The Church of Jesus Christ of Latter-Day Saints and was called to many
positions of responsibility, carrying out her assignments with great happiness. She was an
excellent homemaker and a devoted mother. Betty had a talent for making other people feel special.
It is her children's fond memory that she never said an unkind word. She was a warm and loving wife, 
mother, and grandmother. We will always cherish our memories of her.

We're thankful for the love and devotion of the wonderful care givers at Quail Hollow, as well
as the end of life care and support of Hospice.

Funeral services will be held Saturday, November 18th, at 10:00 a.m. at the LDS church (Mormon)
at 1321 Jadwin in Richland. Visitation will be from 9:00 to 10:00 a.m. at the church. Burial
will follow at Sunset Memorial Gardens in Richland. All are invited to attend. 

Memorials may be made to the charity of your choice.