CAROLE ANN WEEKS CAWDREY ~ Class of 1952
August 11, 1934 - August 4, 2006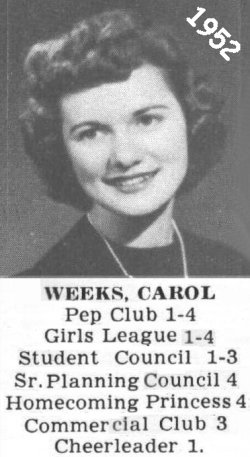 ~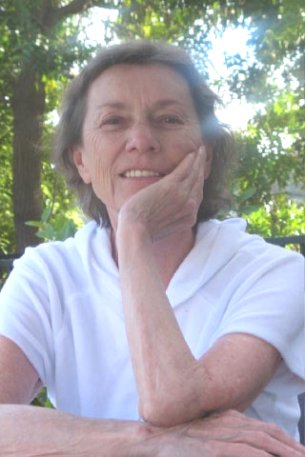 Carole Ann Weeks Cawdrey, 71, of Sonoma, CA passed away peacefully on Friday, August 4, 2006,
surrounded by her family after a courageous battle with stomach cancer.

Carole was born in Utica, NY, and moved to Richland, WA, at age 12, where she attended Lewis &
Clark Grade School and Columbia High School, and later, Washington State University and the
University of Washington. She was named Miss Richland in 1951, and was a Seattle Seafair princess
the same year. She enjoyed gardening, reading, and cooking, was an accomplished bridge player,
loved anything to do with the outdoors and cherished spending time and playing cards and games with
her children and grandchildren. "Grammie" (aka Nana) will be remembered with great love and will be
deeply missed by all who were fortunate enough to have had her in their lives. Married in 1955 to
Jerry T. Cawdrey ('48) of Richland, WA, the newlyweds moved to Lakewood, WA, where they settled and
raised their large family until 1992, when they relocated to Sonoma, CA to be closer to their
children and grandchildren.

Carole remained a devoted wife, mother and grandmother for 51 years. She is survived by her
husband, Jerry Cawdrey of Sonoma, CA, her children Marc (Sue) Cawdrey of Tiburon, CA, Jeffrey
(Bobbi) Cawdrey of San Diego, CA, Kimberley Cawdrey of Buckley, WA, Lori (Tim) Watson of San Diego,
CA and David (Kelli) Cawdrey of Mill Valley, CA; nine grandchildren including Daniel, Ryan and
Kelsey Cawdrey of Tiburon; Alan, Tricia, Christopher and Katy Cawdrey and Nathan and Jordan Watson
of San Diego; her sister, Dawn Weeks Fitzpatrick ('49) of Richland, and numerous beloved nieces and
nephews. She is preceded in death by her parents Hilda Hollenbeck Weeks and Carlton Winfield Weeks
of Richland; her son Daniel Leroy Cawdrey of Lakewood; and her grandson Adam Daniel Watson of San
Diego.

Private services and a celebration of Carole's life have been held. In lieu of flowers, the family
asks that donations be made to The ARC of the United States (Association for Retarded Citizens;
http://thearc.org/).