HOWARD WALTON "TOM" THOMPSON ~ Class of 1958
September 23, 1939 - December 5, 2006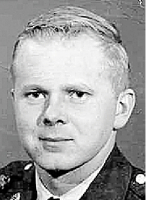 Howard Walton "Tom" Thompson, 67, of Nampa, ID went home to his maker on December 5, 2006. Howard passed away of natural causes, he had lived a full and rich life always surrounded by those who loved him and he loved back.

Howard was born to Jane E. and Howard W., Sr. on the 23rd of September, 1939 in Auburn, NY. At around age 9, he moved from Auburn to Richland, WA where he graduated from Columbia High School in 1958. He joined the military in 1959.

While serving in the military, stationed in West Berlin, Germany, Howard met a local named Karin Eichgrun, they started dating and on the 21st of February, 1962, they married. Howard moved around, as most all military members do, he has toured in Frankfurt, Germany, and in a number of places in Texas to include Waco and El Paso. He also served on recruiting duty in Richland, WA and was finally transferred to Boise, ID in 1972 to complete his tour of duty. In 1980, the whole family moved to the family "farm" in Nampa, to be joined by his parents and aunt.

Howard had retired from the military in 1979 and taken up a career in buying and selling Japanese samurai swords, becoming one of only a handful of experts in that field here in the United States. Howard did not fully retire from "work" until a few years ago where he still traveled a bit and enjoyed his stamp collecting and visiting with family and friends. Howard was also very fond of playing poker, both in his annual trek to Jackpot, NV and online (which he played nearly every day).

Howard was well loved by both family and friends. Known as Tom, or Tommy; Howard and grandpa, he will be greatly missed by everyone he has touched throughout his life.

Howard is survived by his mother Jane E of Nampa; wife Karin E of Nampa; half-sister LuAnn Wager and her husband Philip of Red Creek, New York; his uncle Thomas J. and his wife Patty of Hendersonville, NC; his children, William G. and his wife Vicke of Caldwell, Jimmy L. and his wife Paulette of Nampa; and Tina N. and her partner Laura of Issiquah, WA and two grand children, William G., Jr. of Caldwell and Emily J. of Issiquah, WA as well as his other gained grand children Alan, Cody, Tanner, Shawn and Colt.

Howard is also survived by some of his close friends including the England family, the White family, the Furukawa family (of Japan) and the Hoitt family.

He was preceded in death by his step-father, William "Opa" Lee.

As there will be no memorial services, the family respectfully requests that any donations be made to the charity of your choice.

Arrangements have been entrusted to Alsip & Persons Funeral Chapel, Nampa, ID 466-3545.

Published in the Idaho Statesman on 12/10/2006.