LESTER JOHN "LES" FISHBACK ~ Class of 1934
March 18, 1914 - October 7, 2007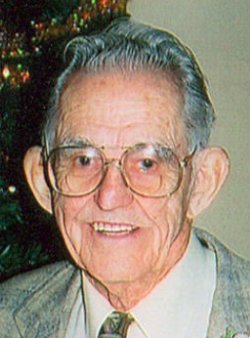 Lester Fishback, a long time Richland resident, died October 7, 2007. He was 93 years old. Les was born in Aberdeen, SD on March 18, 1914. He moved to Richland with his parents Paul and Edna Fishback and two brothers Willard ('34-RIP) and Clarence ('32-RIP) in 1922. It was in Richland where he met the love of his life - Kay Weir ('37-RIP). They were married in Coeur d'Alene, ID on January 2, 1942. In January, 1943 their first son Alan ('61) was born, and in August, 1944 their second son Roger ('62) was born. Les and Kay were married for 64 years. Les raised fruit trees, alfalfa, mint and grapes on the family farm. He entered the Army at the beginning of WWII and was stationed in Hawaii. While Les was overseas, the government confiscated the family home and farm through the use of eminent domain to begin building the Manhattan Project.

After his duty in the Army, Les and Kay moved back to Richland and Les went to work for General Electric. He worked for G.E., Rockwell and Fluor Hanford for 35 years. He never lost his love for farming and the outdoors. He spent numerous weeks of his vacation picking apples in the Yakima Valley. He was known to pick more than 340 boxes of apples in a single day. He obviously did this for the love of farming, as the pay was 8 to 10 cents a box. Les was an avid woodworker, gardener, and fisherman. His tomatoes and flowers were known throughout the neighborhood. At one point he had a greenhouse that supplied starter plants to half of Richland. He loved fishing for steelhead and salmon on the Columbia and Snake Rivers. He and Kay made one long trip to Alaska in their truck and camper. Les fished for salmon and steelhead and they both took in the wondrous sites of the Alaska wilderness.

Les built many small and large projects including a garage, remodeling his home many times, and numerous yard decorations including at least 150 wishing wells, which he sold. They can be seen all over Richland even today. He also enjoyed making wooden furniture and toys for children. He made cedar hope chests for every member of the family. Later in life he developed a passion for the mountains and made many horseback trips to the Cascade Mountains of Washington. Kay was an excellent cook and Les loved to share her famous cinnamon rolls with his friends.

Les was also an avid Richland Bomber sports fan. He rarely missed a Bomber basketball game and in 1972 the team won the State Championship on his birthday. In one stretch Les attended every boys basketball game for 11 straight years. In 2005, Les was honored at halftime of the Richland v Kamiakin game, with a special team basketball sweater for being the oldest living Richland High School basketball player. This was a huge highlight in the last few years of his life. Les played basketball at Richland High in 1932, 1933 and graduated as captain in 1934.

Les was preceded in death by his loving wife Kay, a very beloved granddaughter, Dana Fishback ('92), and two brothers Willard and Clarence.

He is survived by his sons Alan and Lonna Fishback, Roger and Sandy Jones ('65) Fishback; grandchildren Jamie ('88) Fishback (Tyler); Alyssa and Johnathon Kupka; James and Kris Garland (Jamie); Brett and Wendy Garland (Tyler, Casey, Travis, Carly, Cody, and Carson); Kerry and Mike Ripplinger (Meghan); Traci and Scott Swett (Tasha and Max); and numerous nieces and nephews.

There will be a memorial service for Les at Central United Protestant Church on Friday, October 12th at 1:00 pm.

In lieu of flowers, donations may be made to the Leukemia and Lymphoma Society, 530 Dexter Avenue North Suite 300, Seattle, WA 98109, in honor of his granddaughter Dana Fishback.