RUTHE E. McGHAN KAMLA ~ Class of 1938
June 30, 1920 - May 5, 2007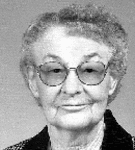 Ruthe passed away May 5, 2007 at Grandview Healthcare Center, Grandview, WA. She was born June 30, 1920 to Ben and Mae Vandine McGhan in Richland, WA.

Ruthe graduated from Richland High School in 1938. She graduated from nurses training at Our Lady of Lourdes Hospital, Pasco, WA and later attended Sacred Heart Hospital Registered Nursing Training. She was drafted as an Army nurse in 1942 and served as Lieutenant in Palm Springs, CA.

On September 29, 1945 she married Lt. Merlin H. Kamla in Riverside, CA. They settled on a wheat ranch in Flagler, CO where Ruthe continued her nursing. They later moved to a ranch in Sunnyside and Ruthe worked for the Sunnyside Hospital until her retirement.

She is survived by her daughter, Patty Keller and husband, Lewis of Grandview, WA, her grandchildren, Kristi Cantu and husband, Blas of Grandview, WA; Vicki Weddle of Prosser, WA; L.J. Keller and wife, Denise of Yakima, WA and Julie Heger, one great grandson, Kaleb Cantu and four great granddaughters, Emilie Weddle, Shelbie Burmood, Emma Cantu and Natalie Keller.

She is preceded in death by her parents, her husband, Merlin and one daughter, Linda Weyer.

Graveside services will be held Thursday, May 10, 2007 at 2:00 P.M. at the Grandview Cemetery, Grandview, WA. Smith Funeral Home in charge of arrangements.