ALLEN Q. "AL" WILLIAMSON ~ Class of 1947
February 1, 1927 - September 4, 2007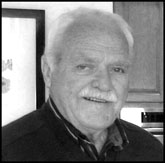 Allen Q. "Al" WILLIAMSON Age 80, of Bellevue, WA, passed away at his summer home in Priest Lake, ID on September 4, 2007. Al was born February 1, 1927 in Kansas City, Kansas, the son of Mr. and Mrs. Robert Williamson.

Al graduated from high school in Jamestown, NY prior to joining the United States Navy. He served during WWII and was honorably discharged two years later. Shortly after he was discharged, he enrolled at Col-Hi in order to get the Washington State History credit that he needed to go college in Washington state... so he graduated from Col-Hi in 1947.

He married the love of his life, Shirley Jenkins.

Al continued his education in civil engineering at Seattle University and worked for Boeing as an engineer for 25 years, living and working in Florida, South Dakota, North Dakota, California, and Bellevue. The Port of Seattle hired him away from Boeing in 1975 and he retired from the Port in 1989. He and Shirley traveled widely. He visited the 50 states in the U.S., Europe three times, and the Orient twice. Al was an avid golfer, loved to boat and water-ski, garden, meet his buddies for coffee, and as a master mechanic, kept his home, boat, and vehicles running smoothly. Al and Shirley enjoyed a wide circle of friends at their permanent home in Bellevue and at their summer home in Priest Lake, Idaho. Al was devoted to his family and friends, and treasured the time he spent with them.

Survivors include his wife, Shirley of Bellevue, WA; son, Jeffrey and Mary Williamson of Mercer Island, WA, son, Todd Williamson of Kirkland, WA, daughter, Nancy and Bob Carlson of Healdsburg, CA, and former daughter-in-law, Sarah Williamson of Medina, WA. He cherished his grandchildren, Michael, Erin, Courtney, and Matthew.

A Memorial Service will be held at a later date.

Sherman-Knapp Funeral Home in Newport, WA is in charge of arrangements.

Family and friends are welcome to sign the online guest book at www.sherman-knapp.com .

Published in print on 9/8/2007.