MARIAN JUNE CLARK O'REAR ~ Class of 1950
June 29, 1932 - November 13, 2007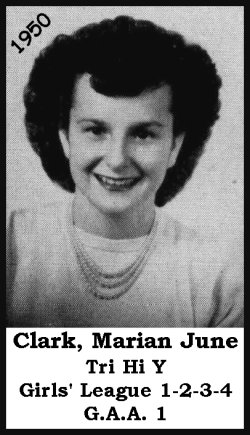 Mrs. O'Rear, 75, of Aiken, died Tuesday, November 13, 2007 at Aiken Regional Medical Centers.

Born in Kings Mill, OH, she was the daughter of the late Jesse and Jessie Edwards Clark. She moved to Aiken in 1951.She was a retired bookkeeper from Woodruff and Aiken Drugs.

In addition to her parents, she was predeceased by her husband, William Earl O'Rear, son, Billy O'Rear, daughter, Vicki Bell, great grandson, Michael Weathersbee, sisters, Juanita Clark ('47), Yvonne Clark, and Geneva Clark.

She is survived by her daughter, Terri (Marty) Mikesell, Summerville, SC, brother, Ralph Wesley Clark, Lexington, SC, granddaughter, Nichole Weathersbee, Samantha Mikesell, grandson, Jesse Mikesell, great grandchildren, Haley Weathersbee, Lainey Weathersbee.

Funeral services for Mrs. O'Rear will be private. George Funeral Home & Cremation & Burial Society is assisting the family. Memorial contributions may be directed to American Diabetes Association, PO Box 11454, Alexandria, VA, 22312.