ANN ELIZABETH PEARSON BURROWS ~ Class of 1950
April 5, 1933 - January 14, 2008.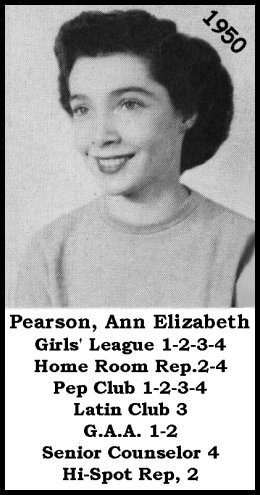 One of Ann's daughters said "No obit was posted for safety reasons". Another one of Ann's daughters (Judi) is compiling a memory book. She sent this email:

Hello,
I am Judi, one of Ann's daughters. I am compiling memories of my mom from friends. She had started to write down her life story but there are some gaps. If you could give my email address to any of her friends who would like to write a page or two about my mom, a memory or such that I can share with my family it would be greatly appreciated.

Sincere thanks,
Judi Burrows Kempf
gotmoxie2@gmail.com

If we get more information, it will be posted here.