THOMAS STEVEN BEIERS ~ Class of 1959
April 1, 1941 - July 19, 2008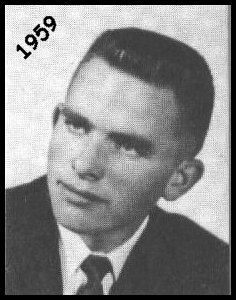 Thomas Steven Beiers, of Redmond, WA, our dear husband, father, papa, brother and great life friend, passed away in Kirkland, WA on July 19th, 2008. He was 67 years old and battled colon cancer with the positive spirit that defined his life.

During his time with us he was an important teacher, by example, to us all. From Tom we learned what it means to live our lives with love, strength, generosity, honesty, fun, humor and courage. Tom taught us to be gracious as well as realistic. He understood that in this life there must be a large space for mistakes, vices, carpe diem and second chances—both for himself and everyone in his life (ok, he can hear you laughing). He showed us that we really can learn, grow and change by being honest about our imperfections. And that we can laugh, forgive and love our way through it all.

His April Fool's birthday must have contributed to his sense of humor and readiness to laugh. Tom had many interests throughout his life and engaged in each with a sense of zest – from boating and water skiing, cars (and drag racing truck) to wood working and building things. He loved the home full of friends and family – the more the merrier. His heart was as big as his smile – always generous to his family and friends.

Tom was born in Fargo, ND on April 1, 1941 and grew up happily surrounded by his parents Abe and Orinda Beiers, his sister Mary ('56) and brothers, Keith ('63) and David ('54-RIP).

He was raised in Richland, WA and graduated from Columbia High School in 1959. Determined to improve his prospects, he received his degree at J.M. Perry Institute in Yakima, WA. During this period, he became the proud father of Tracy and Michael. Tracy and Michael take full credit for setting Tom on the path of responsible provider and hard worker — traits that proved to define the course of his life.

In 1966, he moved to Seattle to work at Boeing. After the legendary Boeing layoffs, he began is lifelong career in eddy current testing. In 1970, Tom joined Zetec, Inc. in Issaquah, WA and reset the trajectory of his career to non-destructive testing. He traveled extensively to maintain the structural integrity of nuclear power plants and submarines throughout the U.S., Europe and Japan. Not a job for the faint of heart, strong friendships developed between Tom and his fellow Zetec special forces. His escapades around the world were legendary at the Gaslamp Tavern in Issaquah, where Tom and his friends would decompress after a hard day's work making the world a much safer place.

After a brief stint in 1974 with Combustion Engineering, Chattanooga, TN, Tom returned to Zetec and picked up where he left off. Then, in 1984 he co-founded N.D.E. Technology along with his trusted partner Riley Looper, and their accomplished team of non-destructive testing specialists Marc B, Mark M, and Jimmy T.

But the '70s were a more interesting period for Tom on the personal front. His career established, he thrived as a wild and crazy guy for a short while. Then one fine day, from his bachelor pad, he and Andy N. spotted a fetching, sophisticated woman jogging past the house. After a couple days of watching this captivating jogger, he made an introduction, smiled his widest and after a romantic courtship, convinced Elizabeth to become his wife. The marriage provided a happy addition to Tom's family with Elizabeth and her four children – Monique, Eric, Fred, and Suzette, who were instantly enveloped into Tom's life as his own.

Eventually, with the help of his son Michael, he and Elizabeth built a big home in Redmond where they could host all their family and friends (if you're reading this, you know who you are!) Drop-ins always welcome, you need only enter Tom's garage/"living room" to find yourself helping with his latest home improvement project, working on one of his many cars, or joining a barbeque in progress. Some of Tom's happiest days were the ones he spent with his grandchildren – most often spoiling them.

If it's possible that each of us leaves an energetic imprint of our lifetime here on earth, Tom Beiers' life has opened the pathway for us all to become more inclusive, more hospitable, less judgmental. Thanks to Tom, we can see that our shortcomings are only human and fully forgivable. Tom's life teaches us that we can take charge of our destiny, overcome our predicaments, and improve our lot in life with our own creative persistence. And, most importantly, we can honor the life energy he has given us by offering our own wide smiles—absolutely free—with sincerity, good will, generosity and enthusiasm.

Tom's family includes his wife Elizabeth Richardson, children Michael Beiers (Dede) and Tracy DeMiroz (Marco), stepchildren Monique DeMartino (Tony), Fred Orns (Rhonda), Suzette Sykes (Kevin), and grandchildren Carson, Isabel, Kahlea, Rachel, Kelsey, Angela, Tyson, Dalton and Ford. He is also survived by his brother Keith Beiers and sister Mary Glendinning (Finis).

Thank you for the happiness you all brought to Tom!

Love,
Elizabeth, Tracy, Michael, Suzette, Monique, Fred

A memorial service was held at 11am, Saturday, July 26, 2008 at Flintoft's Issaquah Funeral Home. Following the service there was be a gathering for family and friends at Tom and Elizabeth's home in Redmond.

The family suggests remembrances to Evergreen Hospice, 12822 124th Lane, Kirkland, WA 98034

Friends are invited to share memories and sign the family's online guest book bu following this link.