SUSAN JEANETTE BIXLER PACHNIACK ~ Class of 1966
May 20, 1948 - August 11, 2008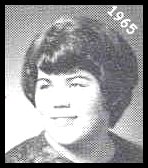 ~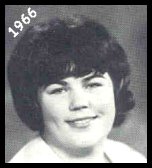 Susan was born in Richland May 20, 1948 to Bob and Jeanette "Jenny" Bixler, the middle of five children. She just turned 60. She grew up in Richland and graduated from Columbia High School in 1966.

Sue was a typical young girl. She participated in Job's Daughters in High School with Julie Gustafason ('66), Linnea Gates ('66), and Becky Rulon ('66). In the summer she was a life guard and taught swimming lessons at the "Big Pool." Once she graduated, she went to Penisula College in Port Angeles, WA.

She married William Arnett in March 1973, had a son, Jason Arnett, and moved to California to live.

In 1982, she married Ken Pachniack in Richland. Teresa was born August 1984. They moved to Michigan to be near Ken's family in 1986. It was there that she perservered and finished her BA degree in Graphic Arts. Sue was very talented and creative. She became a talented glass artisan and shop owner. She provided very personalized glass making, giving customers her individualized attention.

She loved to laugh and make people laugh. Above all, Sue's greatest gift was the love for her family.

She is preceeded in death by her father, Robert Bixler.

She is survived by her mother, Jenny; her husband, Ken Pachniack (near Detroit, MI); her oldest son is Jason (Sarah) with 2 children - Marissa and Erica Arnett (Portland, OR); Teresa Pachniack and Scott (Dawn), Brenden and Tyson Pachniack. (Detroit, MI); her 4 siblings: Bill ('60), John ('64), Jim ('72) Bixler and Nancy Bixler Meinhardt ('74-HHS). Sue was the middle child.

Susan was cremated and wanted her ashes to be sprinkled on the Columbia. On Saturday, September 13, at 5:30 p.m. a memorial will be held for Susan on the banks of the Columbia River behind Sterling's Restaurant (to the left by the boat dock). Mrs. Bixler is also inviting classmates and friends to come to her house after the memorial for refreshments.