TIM CLARK, aka TIM BUSLACH~ Class of 1969
March 7, 1950 - April 3, 2008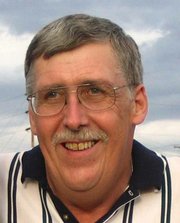 Fairbanks resident Tim (Buslach) Clark passed away April 3, 2008, at his home.

Tim was born March 7, 1950, in Richland, WA, to Bob and Julia Buslach. He grew up in Richland, where he became an avid hunter and fisherman. He graduated from Richland High School in 1969, and attended Columbia Basin College until moving to Alaska in 1972.

In Alaska, Tim worked at various jobs for the Alaska Railroad Corp. and also joined Teamsters Union Local 959. He worked at Prudhoe Bay and several camps during the construction of the trans-Alaska oil pipeline. In 1984 he took a job with the Alaska Department of Transportation as a laboratory technician, and became a member of Public Employees Local 71. He enjoyed working in remote areas of the state rarely seen by most residents or visitors.

Tim married Jeanne Clark in 1979 and the couple had two daughters, Mackenzie and Meredith; their marriage ended in divorce in 1998. He was a member of the Sons of the American Legion, and enjoyed curling, fishing and camping with family and friends.

Tim was preceded in death by his father Bob Buslach. Tim is survived by his daughters, Mackenzie of Phoenix and Meredith of Fairbanks; his mother, Julia Buslach of Richland; sisters, Roberta Livingston of Medford, OR, Nancy Brown of Richland, Terri Hansen of Benton City, WA, and numerous relatives, friends and extended family members.

A memorial service will be held at 4 p.m., Thursday, April 10, at Christ Lutheran Church, Farmers Loop and Iniakuk Avenue with a reception immediately following.

In lieu of flowers, the family asks that memorial contributions to help with expenses be sent c/o Meredith Clark, 479 Slater Drive, Fairbanks, AK 99701, or to Fairbanks Rescue Mission. Arrangements were by Chapel of Chimes Funeral Home.