Bomber Memorial

JoANN LEE CAWDREY LEVEQUE ~ Class of 1950
April 23, 1932 - April 7, 2009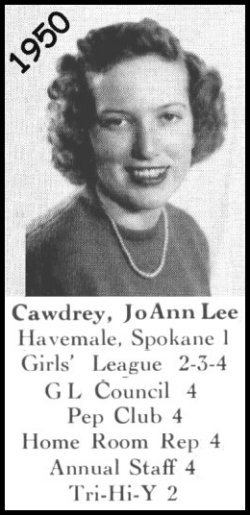 Our beloved mother, JoAnn Lee Cawdrey Douglass-Leveque, lost a short but courageous battle with cancer on April 7th at the age of 76.

JoAnn was born on April 23, 1932, in Spokane to Bernard and Leila Cawdrey. Her family moved to Richland and formed a fellowship with other families who had relocated to work at Hanford. JoAnn graduated from Columbia High School in 1950; she was forever devoted to RHS and remained a true Bomber! She continued her education at Yakima Valley College and Washington State University.

JoAnn worked and raised her four children in Washington. She moved to Nevada after retiring from Westinghouse, eventually settling in Parker, AZ. JoAnn loved and lived foremost for her four children and 10 grandchildren. She remained in close contact with them and took pride in all of their accomplishments. JoAnn also loved and valued her many lifelong friends.

Throughout her life, JoAnn was a fun-loving person who was full of life and laughter. After retirement, she continued to seek and find excitement in life including floating the river with friends and driving a golf cart to water aerobics classes.

JoAnn is survived and will forever be missed by her children Stephen (Tami) Douglass of Selah; Michael Douglass of Richland; Carol (Mark) Helms of Selah; and Cathy (Vern) Forenpohar of Selah. She is also survived by her husband Joseph Leveque of Parker, AZ; brother Jerry Cawdrey ('54) of Sonoma, CA; sister Terri Cawdrey Smith ('64) of Kennewick; and grandchildren Brady and Trent Douglass, Maria Douglass, Jake, Megan and Cody Helms, Lindsey and Casey Gentz and Clay and Katy Forenpohar.

She was preceded in death by her parents Bernard and Leila Cawdrey; sister-in-law Carole Cawdrey; and two nephews Christopher Peterson and Daniel Cawdrey.

Memorials may be made to JoAnn's favorite charity where she lovingly volunteered for more than 15 years: Animal Relief Fund, P.O. Box 1062, Parker, AZ 85344.

A celebration of JoAnn's life will be held at 10 a.m. Saturday, April 18th, at Christ the King Catholic Church in Richland. A reception will follow at the Hampton Inn on GWWay.