ROBERT RAY "BOB" MUSSELMAN ~ Class of 1950
August 11, 1930 - September 30, 2009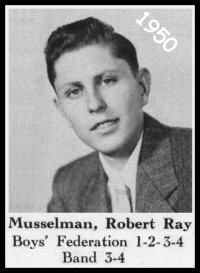 Robert "Bob" Ray Musselman, 79, passed away September 30th at his home in Stayton, OR.

He was born in Danville, IL, to Ray and Mae Wilder Musselman. As a young man his family moved to Richland. After high school he worked at Hanford, where he met and married Mary Knappert in 1954. They moved to Albany, OR in 1969, where Bob worked for Wah Chang until he retired in 1993. In 1993 Mary passed away and Bob moved to Stayton, OR where he married Pat Davis in 1999.

Bob is survived by his daughters, Pat and husband Roy Correia, and Karen and husband Greg Oare; son Michael Musselman; stepdaughter Tina and Husband Lee Isley; grandchildren Ken, Micha, Nathan, Haeli, Todd, Elizabeth, Norman, and Nina; and four great-grandchildren.

Bob was preceded in death by his first wife, Mary; second wife Pat; and sister Norma ('51-RIP).

A graveside service was at 2pm Thursday, October 22, 2009, at Willamette Memorial Park in Albany with military honors by the American Legion posts 10 and 51.

AAsum-Dufour Funeral Home is handling arrangements.