BEVERLEE JOANNE "BEV" SMITH JOCHEN ~ Class of 1952
April 27, 1934 - December 25, 2010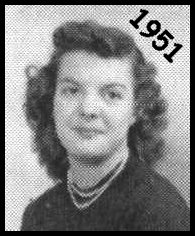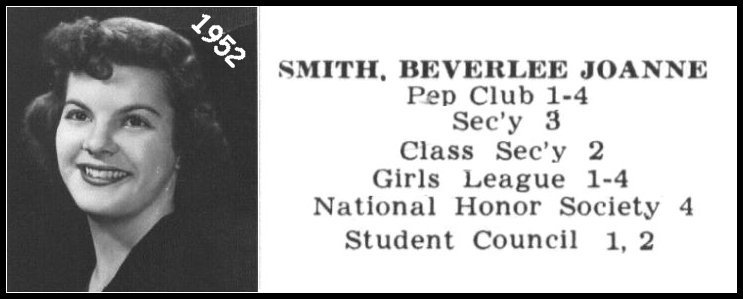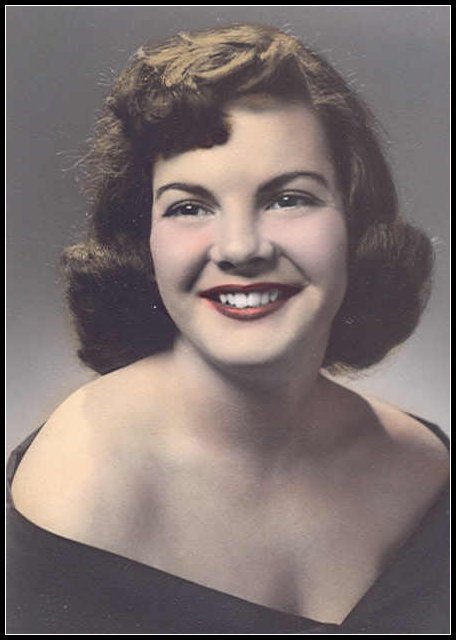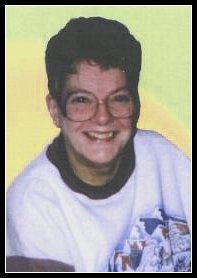 She went home to be with the Lord on Christmas Day, December 25,2010 at the Richland Life Care Center in Richland, WA. She may have lost her battle with cancer, but gained entrance into her new Heavenly Home.

Bev was born on April 27, 1934 in Steubenville, OH to Robert K. and F. Constance Smith. She lived in Ohio until she was four years old. In 1938, her family moved to Denver, CO to reside with her maternal grandparents in order to avoid a local polio outbreak.

Her family moved to Richland, WA in 1944 because her father was to become an instrumental figure in the "Manhattan Project" at Hanford, WA. Bev grew up in Richland, WA and was to reside there the rest of her life. She attended Columbia High School from 1949 through 1952 when she graduated. She was very active in softball, Junior Women's Club and various other organizations while in high school. Bev was very popular and always had many friends.

Bev married her sweetheart from 8th Grade through high school, John C. "Buzz" Jochen ('51) on January 27, 1954. Her new husband joined the U.S. Coast Guard in 1954 and she bore her first-born son, Timothy C. Jochen ('73) at Camp Hanford Army Hospital at Hanford, WA in 1955. In 1958, she bore her second son Gregory R. Jochen ('76) at Kadlec Hospital in Richland, WA. She lost a preborn child in 1961, but then had her third child, Rodney M. Jochen ('80) at Kadlec Hospital in Richland, WA in 1962.

She and her husband raised her boys in the Richland School System. Bev was a truly remarkable mother, raising three boys in the Richland Area. She supported their athletic and scholastic endeavors, along with teaching them the values of life as they grew up. She was a second mother to many of her kids' friends and always had a listening ear for others.

Bev was diagnosed with Multiple Sclerosis in 1977 and eventually divorced in January 1979. She was diagnosed with Colon Cancer in 1995, and then spent a year on chemotherapy. She was diagnosed as "cancer free" in 2000, but was later diagnosed with a precancerous tumor of the colon in 2002. This tumor was caught early and did not require chemotherapy, so she was declared "cancer free" for the second time in 2007.

Bev was a fighter, and stayed up on her therapies and treatments that ended up extending her life. Because of these scares with her health, she was extremely well prepared for her own eventual demise.

Throughout her life, Bev was a excellent example of a true friend. She demonstrated a personal commitment to her friends by constantly staying in contact with them and supporting them through life. In 1995, Bev began to take a keen interest in computers and taught herself how to use the computer to better communicate with family and friends. She used her computer skills to provide research and to share information for different maladies in support of her friends and family, as well as, to webmaster the Richland Bomber Class of 1952 website. The computer also helped her to share her love for animals by working with various shelters to find homes for abused animals.

Bev fell in love with her long-time friend and high school classmate Vernon E. "Van" VanDusen ('52) in 2005. They exchanged vows and committed their love to one another in 2006. Both Bev and Van became icons in Richland social affairs; eating at local restaurants, going on little trips, involving themselves in their class reunions, and demonstrating their love for one another everywhere they went. Bev stated that her last six years with Van were the best years of her later life, and this relationship probably added years to her life, since she had been suffering from multiple maladies.

Bev was very meticulous, and everything had its place. She stayed on top of her own affairs even after illnesses and hospitalizations. She constantly had a propensity to do things right. She made peace with God, then family and friends before her death on December 25, 2010. She loved Christmas and always went to great lengths to decorate her home with the love of Christmas. It was not a surprise to anyone that knew her when she passed away on her favorite day.

Her steadfastness, independence and dedication to friends and family will always be remembered by those who loved her. Her life will be missed by many and envied by others. She will be truly missed by those left behind...

Bev is survived by her committed companion Vernon VanDusen (Kennewick, WA); three sons: Timothy and wife Karen (Yakima, WA), Gregory and wife Ruth (Granger, WA) and Rodney and wife Irene (Sunnyside, WA); her eight grandchildren (Granger, WA); Samuel, Benjamin, Mellissa, Carissa, Luke and Moriah; Leonard (Prosser, WA), Greg (Richland, WA) along with her six great-grandchildren.

Funeral Services will be held Thursday, January 6, 2011 at 1pm at Einan's Funeral Home and Crematorium; 915 Bypass Highway, Richland, WA 99352, (509) 943-1114. A Memorial Service will be conducted followed by a Graveside Service, then a Reception following at Westside Center, 1007 Wright St., Richland, WA.

Memorial Contributions can be sent to the following: Benton-Franklin County Humane Society; North Shore Animal League; POPP (Pet Over-Population Prevention; (Local) Children's Wishing Star or Make a Wish Foundations.

"Please, in my memory if you can, save a life and adopt a "previously loved" dog or cat from a local shelter." BJJ/1/14/2004

"No eye has seen, no ear has heard, no mind has conceived what God has prepared for those who love Him." 1 Cor 2:9 (NIV).