DANIEL B. "CHOCOLATE DAN" MONROE ~ Class of 1959
October 25, 1941 - July 30, 2010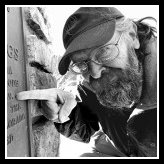 Obituary by Charlotte Taylor

Daniel B. Monroe, age 68, died at St. Anthony's Central Hospital, Denver, on July 30, 2010. He lived for many years in and around Central City, CO.

He was born October 25, 1941, in Denver, graduated from Columbia High School in Richland in 1959 and received a degree in Psychology from Central Washington University in 1963.

He was preceded in death by his parents, Robert and Lorita Monroe and a brother, Robert E. Monroe.

He is survived by his sisters, Patty Monroe West ('49) (Roy) and Peggy Monroe Thyrian ('64)(Frank).

During the years Dan lived in and around Central City, he worked as a bartender, conducted tours at the Central City Gold Mine and Museum, operated the local liquor store, served as a museum guide, and ran an antique store in Nevadaville, CO. He was known by most as "Chocolate Dan" or just "Chocolate" because of his fondness for chocolate in any form. He was instrumental in organizing Central City's Gregory Day parade that was held for a number of years on May 6th. He will be remembered for his intense interest in history, researching mining claims and compiling the early history of Colorado, notably that of John Gregory and the original party of miners who discovered gold in Mountain City, the original strike between Central City and Black Hawk. He was the only honorary life-time member of the Gilpin County Historical Society. As town historian, he answered all questions about Central City from the time of the first gold mining claim, and gave lectures on history in the public schools. A tour guide at the historic Thomas House, he knew exact dates and details for the original home, alterations, history of every owner and dates and circumstances surrounding all the furniture, paintings and other furnishings including carpets and wallpaper.

Memorial services will be held Saturday, August 21st, at 2pm in the Elks Lodge No. 557 in Central City, where he was a Past Exalted Ruler.

Obituary by Lew Cady

Chocolate Dan Monroe was Central City's historian. He knew more about Central, Black Hawk, and Gilpin County from 1859 to 2010 than most anyone living. And now he's part of that history at 68 years of age.

On July 21st, his friends noticed that he hadn't left his home in some time, and the Central City Police were summoned to do a do a welfare check. Dan was taken to St. Anthony Hospital where he remained in a coma for over a week until Friday, July 30th when he passed on. The diagnosis included pneumonia, a stroke, and septic infection.

His love of mining and all that went along with that was enormous.

He was known as Chocolate Dan because of his love for the stuff. He once made potato salad with Hershey Kisses to try and claim the honor of making the best potato salad in Central City.

Chocolate worked at various jobs, including working for Bill Russell at his mine, as a tour guide at the historic Thomas House in Central City for the Gilpin Historical Society, and was a whiz at digging up information on deeds and titles at the County Court House. But, he was at his best at the Western History Division of the Denver Public Library where he unearthed all manner of information about Gilpin County.

He could give the definitive description of John Gregory's discovery of gold.

He could tell you the complete history of Central City's newspapers in great detail.

He could recount in detail how the mines went into and out of business up here. It was his mining knowledge that won him the 2002 Gilpin County Man of the Year Award, along with William C. Russell, Jr. and Norm Blake.

And he knew the story behind nearly every building in town.

He was not just a pal and a seemingly permanent fixture of Central City – he was a tremendous resource. His loss is, indeed, ours. And it's a huge one.

---
This entry was posted on Thursday, August 5th, 2010 at 10:09 am and is filed under Community, News, Obituary. You can follow any responses to this entry through the RSS 2.0 feed. You can leave a response, or trackback from your own site.

http://www.gilpincountynews.com/2010/08/05/chocolate-dan-monroe-remembered%E2%80%A6/#more-1373