RUDY WALTER FRANZ ~ Class of 1966
September 18, 1947 - May 10, 2010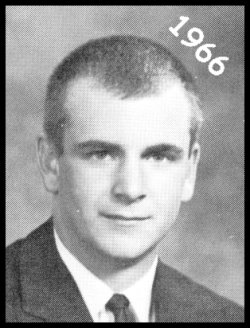 Rudy, 62, of Richland died May 10, 2010 at his home. Rudy was born September 18, 1947 in Richland to Russell Eugene and Irene Mae Camp Franz.

Rudy was preceded in death by his mother and father. He is survived by his brother Gary (Pat) Franz ('61) and family, sister Gail Franz ('64) Poynor (John) and family, son Dustin (Kara) Franz and their children Allie Franz, Cody Olsen and Cassie McElfish, son Jason, (Tresa) Franz and their son Drake. He leaves many nieces, nephews and their children.

After attending CBC and receiving his AAS in Machine Technology, Rudy served in the Army from December 1968 to September 1970. He trained as a vehicle mechanic and was stationed in Germany. After his service in the Army he worked at a Texaco station, eventually purchasing the station in Richland. He has also worked as a Patrolman at Hanford. He logged many hours as a Richland Reserve Police Officer, earning commendations for his time and efforts. He worked as a corrections officer for the City of Richland police department and earned commendations for his work. He remained there until the jail was closed in 1985. Rudy loved working with plants and enjoyed his last job as a nurseryman. He had quite a following at Wood's Nursery and was missed by many of his customers.

He enjoyed fishing of all kinds and could always find an excuse to "go" fishing with his pals. Fly tying was another favorite pastime. He treasured his Grandfather's and Father's fishing gear.

Rudy loved to cook and share his creations with neighbors and family. He was known for his "hot" peppers and jerky.

A memorial gathering will be held at the Richland Columbia Point Marina Park at the center Gazebo, on Sunday, May 23rd at 1pm. Refreshments will be served.

In lieu of flowers contributions can be made to a donation account for the benefit of the Rudy Franz Family at any GESA Credit Union branch or mailed to GESA P.O. Box 500, Richland, WA 99352.