BOMBER MEMORIAL

ETHELYN "LYN" HARRIS CROWE ~ Class of 1947
January 30, 1930 - September 26, 2011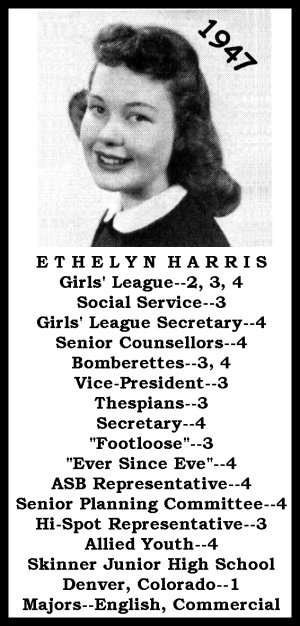 Lyn was born January 30, 1930 to Carlton G. Harris and Alice M. Harris in Pierce, CO and passed away September 26, 2011 in Marietta, GA.

She attended Skinner Jr. High in Denver, CO before moving to Richland with her family in September, 1944. She was very active at Columbia High School and graduated in 1947. She attended WSC (Now WSU) school years '47-'48, '48-'49, and '49-'50 and majored in Sociology. She married Michael D. Crowe 8/19/50 and went back to school Fall of '51 for 1 semester. Their first child, Denise was born in April, 1952 and Lyn graduated with a BA in Sociology in the Spring of 1952 with baby attending.

She was Director of Admissions at The Devereux Foundation in Kennesaw, GA

She was survived by spouse, Mike Crowe; children: Denise A. Clerkin, Bloomington, IN; Patrick Crowe, San Francisco. CA, Mark Crowe and wife Becky Crowe, Bellingham, WA; Grandson: Justin Graue, Indianapolis, IN; brother Richard "Dick" Harris ('49).

She was preceded in death by her parents, six siblings and a grandson.

She was a Lifelong Church Member. She was cremated and there will was a Memorial Service at Sandy Springs Christian Church (SSCC) in Sandy Springs, GA

In lieu of flowers or other, the family suggests a memorial gift go to S.S.C.C. (Sandy Springs Christian Church) Memorial Fund in Lyn Crowe's name. Address is: S.S.C.C., 301 Johnson Ferry Road, N.W., Sandy Springs, GA, 30328.