BOMBER MEMORIAL

EVELYN A. "EVIE" JOHNSON JOHNSON ~ Class of 1948
February 26, 1931 - May 30, 2011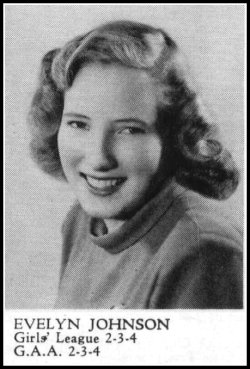 Evelyn A. "Evie" Johnson Johnson of Meridian, passed away at her home on May 30. 2011.

Evie was born in Onamia, MN on February 26, 1931 to Henry and Mimmi Johnson, the 7th of eight children. She spent her early childhood in Onamia working on the family farm. The family relocated to Richland when she was 10 years old and she graduated from Columbia High School in 1948.

On April 23, 1950 Evie married Marvin L. Johnson in Richland. Over the next 50 years they lived in many places all over the U.S. and in Algeria as Marvin worked heavy construction. During these years Evie was a homemaker and took great pride in raising three sons Chris, Pete and Levi and one daughter, Lou. Evie enjoyed many outdoor activities including gardening, hunting, fishing and camping. She also spent many hours knitting, sewing, sketching, and painting and would never pass up a chance to play pinochle.

She was a member of Eastern Star and the Daughters of the Nile. Evie is survived by her four children and their spouses, Chris & Vicky Johnson of Ritzville, WA, Lou & Frosty Brooks of Boise, ID, Pete and Klissa Johnson of Washougal, WA and Levi and Beth Johnson of Layton, UT. She is also survived by three sisters, nine grandchildren, ten great-grandchildren and two more great-grandchildren on the way.

Evie was preceded in death by her husband Marvin Johnson as well as her parents, three brothers and one sister.

Funeral services will be held Friday June 3rd 12 noon, at the Chapel of the Chimes Funeral Chapel 105 E Carlton Ave., Meridian, followed by a grave side service at Terrace Lawn Memorial Gardens in Boise.

A memorial plaque for Evelyn and Marvin will be placed in Meridian's Tully Park by their family. In lieu of flowers, memorial donations are suggested to the Paralyzed Veterans of America or the Idaho Humane Society.