DR. HAROLD EUGENE CLARK ~ Class of 1952
January 30, 1934 - January 6, 2011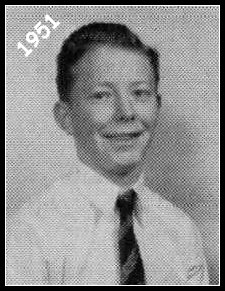 ~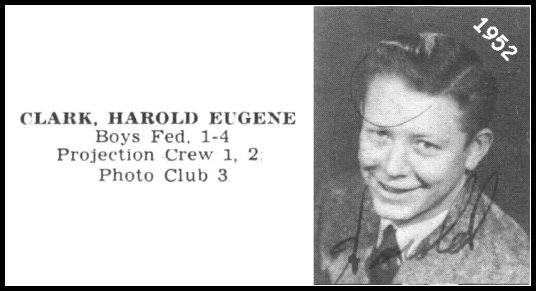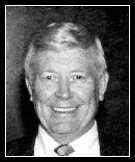 Dr. Harold Eugene Clark, 76 died peacefully in Cedar City, UT, on Thursday, January 6, 2011, surrounded by his family. His death was due to a midbrain stroke, a complication of end-stage Parkinson's disease.

He was born January 30, 1934 in Wynne, AR to Hattie Welch Clark and Joseph Leland Clark. Harold spent his earliest years hunting squirrels and fishing. Around the age of 12, Harold and his family moved to Yakima and eventually settled in Richland.

He graduated from Columbia High School in 1952 and then attended Brigham Young University for one year prior to joining the U.S. Army. He served in the Army for two years as a company clerk. He spent time in Fort Lewis, Fort Ord, CA and in the Nevada desert, where he was involved at the nuclear testing site.

When Harold was home on leave, his sister Daisy ('54) arranged for him to go on a blind date with a young girl she had met at a young adult church group. After that first date, Harold was smitten! He and Barbara spent many hours together and were quite a stir on the dance floor, especially when they danced the jitterbug!

When Harold returned to the Army the couple wrote letters and made plans for their future life together. Harold and Barbara were married August 3, 1956, this year they would have been celebrating their 55th wedding anniversary! Their marriage was later solemnized in the LDS Logan Temple.

After his service in the Army, Harold continued his education by attending Columbia Basin College in Pasco, and University of Washington in Seattle, where he studied pre-dentistry.

While living in Seattle, Harold and Barbara had their first child, Kathy. Harold was accepted into dental school at the University of Iowa and received his Doctorate of Dental Surgery in 1962. He and Barbara also had two more children, Karen and Kim, while living in Iowa. The family moved back to Washington where Harold served his dental internship at the Veterans Hospital in Seattle. Once he completed his internship, they moved to Sunnyside, where their daughter Kristie was born and where he opened his dental practice.

Harold was a self-starter with an entrepreneurial spirit. When something piqued his interest, Harold jumped into a new adventure with both feet-usually taking family and friends with him. This allowed those around him to have a multitude of experiences including (but definitely not limited to) growing tulips, raising worms and crickets, remodeling houses, designing landscapes, house painting (inside and out) planting orchards of trees, harvesting cherries, grapes, etc. raising turkeys, pheasants & chickens, selling "nutritional" cookies and starting his own clothing line - Shreds by Clark.

He had numerous hobbies and interests. He had a pilot's license and logged many hours in flight. He enjoyed running 5k's, 10k's, marathons and triathlons, flying remote control airplanes, playing the guitar, singing, dancing, photography, clam digging, fishing, and of course painting. He opened his own art gallery displaying over 600 of his paintings.

He loved being around others and enjoyed any activity where he could use his creativity. He had a great sense of humor and relished a good practical joke. He was often doing things such as super-gluing coins to the tops of nail heads and then nailing them into the streets of Sunnyside waiting for an unsuspecting person to try to pick up the "dropped change" or telling an elaborate story of how he acquired a rare deadly mongoose only to have a piece of fake fur propel out of a cage landing on or near the unsuspecting "victim."

Harold was known for his tremendous generosity, always willing to give of his time, knowledge and means to anyone in need. He valued people and was quick to point out the positive traits in those around him.

Harold and Barbara remained in Sunnyside for more than 40 years, where they raised their family, made life-long friends, participated in community events and operated a successful dental practice. Because of Harold's health issues, they made the difficult decision to move to Utah in 2008 to be nearer to family members. Harold continued to think of Sunnyside as his home and often talked about returning.

Harold was a member of The Church of Jesus Christ of Latter-day Saints and served in many leadership positions in the church.

Harold is survived by his wife, Barbara; four children: Kathy (John) Lee of Bakersfield, CA., Karen Clark of Austin, TX, Kim (Brian) Kitteridge of Cedar City, UT and Kristie (Jorge) Nolasco of Phoenix, AZ.; 16 grandchildren; seven great-grandchildren; one sister, Daisy (Duke) Smith of Indian Springs, NV.; and two brothers, Bill Clark of Huntington Beach, CA and Roger Clark of Olympia, WA.

He was preceded in death by his mother, Hattie Welch Clark; and his father, Joseph Leland Clark.

A private family service was held in Cedar City, UT following his death.

A public memorial service was held Saturday, February 26, 2011 at The Church of Jesus Christ of Latter-day Saints in Sunnyside.

The family also invites those interested to post memories, comments, photos, etc. and/or sign the guest book on-line at http://1000memories.com/harold [Maybe somebody else can get it changed from Richland High School to COLUMBIA High School.]

We miss you daddy!