BOMBER MEMORIAL

EUGENE AMOS "GENO" DURAN ~ Class of 1956
April 6, 1938 - October 7, 2011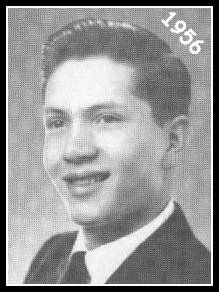 Eugene Amos "Geno" Duran, 73, of Kennewick, WA, beloved husband, dad, grandpa and brother, passed away peacefully on Friday, October 7, 2011 at his home in Kennewick. He was born April 6, 1938 in Wolsenburg, CO to Joseph and Della Duran.

The family moved to Richland in 1943 and Geno graduated from Columbia High School in 1956. He left the Tri-Cities in '56 and went to work at Boeing as an inspector. He rose through the ranks in the Union and was elected President of his Local and then became the Union Business Reprsentative for the International union.

He moved back to the Tri-Cities in 1996 after he retired.

Geno's hobbies and favorite things include organic farming, cherry picking and canning, making salsa, sailing his catamaran in Puget Sound, showing his dalmations at dog shows around the country, and driving his Blue Bird bus all over this fine land. He always wanted a hamburger, hated to lose at anything he did or tried and his favorite hobbie was dancing.

He was a family man and loved people, but most of all he loved to spend time playing with his grandchildren.

He was preceded in death by his father, Joseph, mother, Della, and brothers David ('63 KHS) and Larry ('69 KHS).

Geno is survived by his wife Debbie, daughter Donna, son Rick (their mother, Linda); stepchildren Jamie, Shawn; grandchildren Stephanie, Katie, Jessica, Jana, Donna and Rick's children, Sarha, Danahi, Anahbella, Jamie and Shawns; brother Tony ('55), and sisters, Geri ('66-KHS) and Martha ('67-KHS).

A Celebration of Life, service, for Geno was held at St. Joseph's Catholic Church in Kennewick on Saturday, October 15, 2011.

Life Tributes Cremation Center, Kennewick, is in charge of arrangements.

Written by Geno's brother, Tony:
"It's a sad day! My brother, Eugene, passed away and left another big hole in our hearts. Eternal rest grant unto him O Lord, and let perpetual light shine upon him. May he rest in peace.
Gene, Gene the dancing machine is gone but will never be fogotten."