BOMBER MEMORIAL

JACE MICHAEL WATTS ~ Honorary Class of 2007
November 15, 1989 - January 9, 2012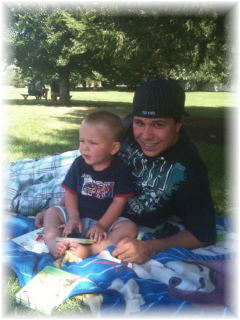 Our hearts were shattered the day you left. Jace Michael Watts was born November 15, 1989, in Richland and left this world to join his Heavenly Father on January 9, 2012.

Jace had an adventurous spirit, evidenced by his motor cross success even at the early age of four. He raced all over the Northwest including the World Mini Nationals in Las Vegas, NV, where he earned the name "Wildman Watts." Jace enjoyed many athletic activities, including football, soccer, wake-boarding, snowboarding and basketball. However, his true love was baseball, from Little League (where he hit a grand slam off his cousin's pitch on the opposing team) to high school as the only player from Jubilee Christian to make the Varsity team at Prescott High.

Jace attended West Side Preschool, Marcus Whitman and Jason Lee Elementary Schools, Chief Joseph Middle School, Richland High School and graduating one full year early from Jubilee Christian. Jubilee brought him friends and mentors too numerous to count, most importantly his lifelong friends Ryan Parkhill and Mark Hauck.

Jace is survived by his parents, Mike and Angie Watts; his brothers: Jon, Jaden and Jaremy; his grandmothers, Barbara and Mary; aunts and uncles, and countless cousins; his precious niece, Marlee Jean; and his most beloved son, Ryan Zane Watts, who got his name from Jace's best friend and cousin. You could see right away that Ryan truly was his father's son ... right down to his winning smile and twinkle of mischief in his eyes. We thank God that our family was blessed with Ryan before Jesus called his son, Jace, home.

Preceding Jace in passing was his grandfather, Owen Grant, who as you may well know was a lot like Jace in many ways. We like to think that they are together, plotting a scheme or prank for a good laugh. Grandpa can finally dance again, and he needed Jace to teach him some new moves.

After graduation, Jace worked as a painter in the Local 427 Union in the footsteps of his father, Mike. Jace attended West Side Church for 13 years, where he cherished his annual trips to Camp Ghormley and met his "Hero" Jake Shupe, and his savior, Jesus Christ, for the first time. By the age of 15, he was introduced to Good News Church where he not only reconnected a relationship with God but found out how to walk with Him through the Holy Spirit filled teachings led by Vlad and Ilya.

His extreme passion for Jesus brought many members of his family and friends to the pews of the church where we all felt that fire for God he was talking about. Perhaps it was his love for Jesus that gave him his angel-like qualities, his heart of gold, and a smile that lit up a room, that anyone who knew Jace felt the joy and warmth that overflowed within him. His love was absolutely contagious. His greatest joy was a direct link to being a father to Ryan. Ryan was the light of his life. Jace always had a special connection with children. We always knew he would be an amazing father, and he truly was.

We will miss you Sugarfoot aka Macey Jichael. Say hello to Grandpa for us. Until we meet again, you will remain in our hearts forever.

For those of you who wish to share in a celebration of Jace's life, we invite you to join us at Memories at Sunset Event Center in Richland at 10:00 am on Saturday, January 14, 2012, with a reception to follow at 1:00 pm at the Masonic Lodge at 412 Thayer Drive in Richland; a covered dish is welcomed.

In lieu of flowers an account has been at up at HAPO for donations in Jace's name for remaining funeral expenses and a trust fund for his son, Ryan Zane Watts.

Romans 10:13: "For whosever calls upon the name of the Lord shall be saved."

Express your thoughts and memories in the online guest book at www.einansfuneralhome.com

Published in the Tri-City Herald January 13, 2012.

Bomber Memorial put together by Shirley COLLINGS Haskins ('66).