BOMBER MEMORIAL

CURTIS LEROY "CURT" LUDWIG ~ Class of 1947
April 21, 1929 - October 18, 2012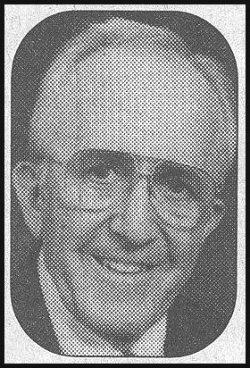 Curtis Leroy Ludwig passed away peacefully with his daughters by his side in Richland on October 18, 2012. Curtis was born to Ethel and William Ludwig in Talent, OR on April 21, 1929. Most of his younger years were spent in Northern California and Oregon. His high school years were spent in Richland, where he graduated from Columbia High School in 1947. He attended Oregon State University and went on to receive his Doctorate of Jurisprudence from Willamette University Law School in 1952.

After serving in the United States Army for 3 years and prior to acceptance into the Washington State Bar in 1954, Curtis was an Insurance Claims Adjuster in Spokane. He started his private law practice in Kennewick and joined the Benton County Prosecutors office in 1960. Curtis served as a Deputy Prosecuting Attorney for 14 years and the Prosecuting Attorney for 12 years, retiring from Benton County in 1987. In 1963 he was appointed U.S. Court Commissioner for Eastern Washington. Curtis also served the citizens of Benton County when he was elected as the 8th District State Representative in 1990 and later appointed to the Washington State Senate in 1993. In 1996 he was appointed to the Washington State Gambling Commission and served two terms. Curtis went back into private practice briefly in 2001. He permanently retired in 2004 and spent a great deal of time on the Oregon Coast. Curtis also enjoyed spending time with his daughters, grandchildren and flying his hot air balloon in his retirement years.

Curtis was preceded in death by his parents, William and Ethel; and his former wife, Ruby Ellen Ludwig.

He is survived by his brother, Harold Ludwig ('45) of Phelan, CA; his four daughters, Kim (Don) Roueche, Kay Gonzales, Brenda (Bret) Bailey, and Connie Ludwig; 7 grandchildren and 3 great-grandchildren.

The family would like to take this opportunity to thank the staff at Kennewick General Hospital and Richland Lifecare Center for the excellent care they provided Curtis in his final months and last few days.

A private family service is being planned.

Published in the Tri-City Herald on October 20, 2012.