BOMBER MEMORIAL

JOE JEAN WOOD ~ Class of 1948
June 4, 1930 - October 19, 2012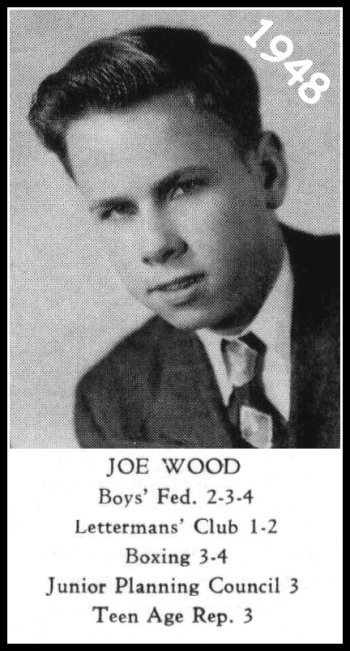 Joe J. Wood, long-time Yakima resident, died from complications of a stroke on October 19, 2012, in Bellingham, WA, surrounded by his loved ones.

Joe was born June 4, 1930, and was raised in Denver, CO, & Richland with his brothers, Zane, Ed, and Pat. Joe graduated from Col-Hi in 1948 and then from WSU. He spent his working life as a salesman. Joe suffered a stroke in March, 2012, and moved to be near his children in August. 2012, following a second stroke.

Joe was industrious, inventive, & funny. Despite major health issues throughout his life, Joe was always positive & upbeat. Joe was a joker who loved to refer to himself as both a professional raconteur & as the yoyo "Champeen of Calvenator County." He was a master of words, even if he had to make them up. Cannon Beach, OR, was a special place for Joe, having spent time with his family there as well as with his good friends the Hursons, Gates, Tierneys, LaFromboise, & Gilmores.

Joe was preceded in death by two brothers: Zane and Ed ('45 & '47).

Joe is survived by his children JoAnn (Steve) Buff; Susan (Dan) Wood; Jim (Martha Shapiro) Wood; eight grandkids, 6 great-grandkids, and his younger brother Pat ('54) (Judy) Wood.

A private celebration of life for Joe's family & friends was be held on October, 27, 2012, in Yakima, & his family will scatter his ashes at a later date at Cannon Beach, Oregon.