BOMBER MEMORIAL

BEVERLY ANN "BEV" BROWN HERZOG ~ Class of 1952
January 19, 1934 - August 10, 2012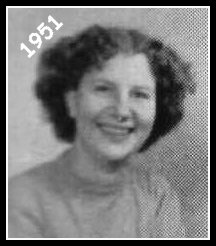 ~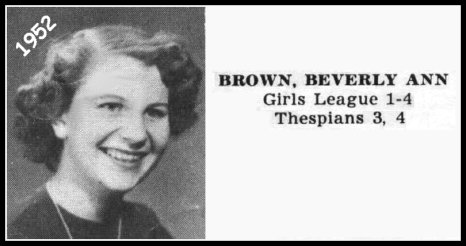 Bev was born in Nowata, OK, to Ruby and Raymond Brown on January 19, 1934. She was 78 years old when she died at her Placerville home on August 10, 2012.

Beverly and her husband were married in the old Spanish mission at San Luis Obispo, CA, in 1955 and were Placerville residents since 1962.

She graduated from Columbia High School in 1952, got her AA degree from San Luis Obispo Junior College in San Luis Obispo, CA in 1955, and her Bachelor of Arts degree from CSU-Sacramento in 1987. After her five children were all in school she started and operated an antique lamp shop in Diamond Springs for several years, then went back to college to get her BA in Anthropology and a Museum Technology Certificate. She then became a volunteer worker at The El Dorado County Historical Museum in Placerville until a few weeks before her death due to after-effects of injuries suffered in a fall from her wheel chair while she was doing household chores.

Beverly was a member of the Cherokee Nation (Oklahoma), was secretary for the Yellow Bird Council of the Cherokees of California for many years, a member of the Daughters of the American Revolution and a member of the Colonial Dames. She was, for many years, a member of the Single Action Shooting Society where her shooting alias was Miss Ada Belle. Along with her husband, she participated in the activities of the Murrieta Posse, California Rangers and Hangtown Vigilance Committee cowboy action shooting clubs.

She is survived by her husband of 57 years, Frank; daughters, Teresa and Jeanne; sons, Steven and Karl; six grandchildren; and one great-grandchild.

She was preceded in death by her parents; her sisters; son, Richard; grandson, William; and great-granddaughter, Claire.

There will be no services. Remembrances of Beverly to your favorite charity would be appreciated. Her favorites included Westside Church of Placerville, El Dorado County Historical Museum, El Dorado County Historical Society, the Law Enforcement Chaplaincy of Sacramento, the USO, the Paralyzed Veterans of America and Diamond Point School in Nowata County, OK.