BOMBER MEMORIAL

BARBARA "JEAN" GIRE ~ Class of 1952
April 1, 1934 - September 22, 2012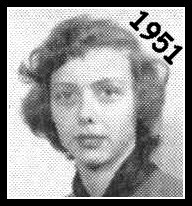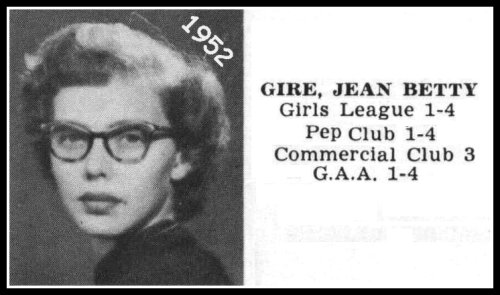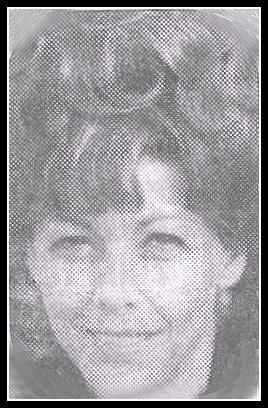 On April 1, 1934, in Fairfield, Iowa, a little towheaded girl was born to Willard Jacy and Florence Emily Gire (their little "April Fool" baby-although I doubt Florence was laughing) the sixth of nine girls and the eighth of eleven children. They named her Barbara Jean, the Barbara would later be dropped and she would be known only as Jean.

Jean grew into a beautiful young girl/woman with a gregarious personality, kindness in her heart, much charisma and popularity. Jean never failed to compliment a person whenever she saw them, making their day brighter.

Jean was a cheerleader in her freshman year at Col Hi in Richland and belonged to the Girl's Athletic Association (GAA) and the Pep Club where they marched in sync and were proud to belong. Jean also played women's softball and excelled in this sport.

Jean worked at Garmo's Bakery in Richland and then in the laboratory at General Electric. Although Jean declared "she would never marry" she finally wed Don Medley on April 11, 1953 in a church in Coeur d'Alene, Idaho, Don decided on the military as a career and they moved to Van Nuys, CA. Don was being "best he could be" and Jean worked at Big Bob's Restaurant, spotting several movie stars (Jean always possessed the "movie star quality" herself) and went to school, eventually landing a job with Marquardt Aircraft where she aspired to be "Rosy the Riveter" like her big sister Wilma, but that era had passed and Jean became a Financial Auditor. In California, a baby girl was born on October 7, 1959, named Kelly Jean. Then the military sent Don to Germany with Jean and Kelly to follow at a later date and another baby girl was born in Augsburg, Germany, on December 19, 1963, named Kimberly Diane.

Don did two stints in Vietnam and Jean suffered the military wife syndrome -- wondering, waiting through much fear and anxiety, listening to the Buck Owens' song Together Again and looking forward to his return. Don did return and was stationed with his family in Kansas City, KS, then moving to Piper, KS. While in Kansas, Don and Jean taught themselves to play guitar and Jean hand-created several binder books of songs including words and music technology. When the extended families got together the books came out and there was much pickin' and singin' much to the chagrin of the younger generation.

The Gire family had many picnics and more than a few sisters' luncheons and always a good time was had by all.

Jean began her journey on March 5, 2012, being released from the hospital under hospice care after the doctors said they could do no more for her because her lungs were in bad shape from emphysema. Jean wrapped her mind around her position and made everyone comfortable with the situation saying many times "it is a beautiful thing" and is the right journey.

Jean made "to do" lists for all immediate family members and how she wanted things to be handled, i.e. eating her meals on her fine china. As we had the pleasure of her company it seemed amazing how lucid and well informed on what was going on around us Jean appeared.

There were many family and friends and much laughter and love.

Jean felt she was in a comfortable place and had the best of caregivers, her daughter Kim and her granddaughters Danielle Nicole, Lindsay Michelle, and Sydni Madison.

Jean's journey ended on September 22, 2012 and she leaves behind her daughters Kelly, Kim, and grandchildren Danielle, Lindsay, and Sydni and two sisters June and Sandy ('60).

Predeceasing Jean were her parents, brothers, Ros and Lewie, sisters, Wilma, Norma, Jeanette, Betty, Rose and Karen ('57) and many nieces and nephews, great nieces and nephews and great, great nieces and nephews.

It is so hard to summarize a great person's life accomplishments in a few lines, almost as hard as to grasp reality and rely on beautiful memories, of which there are many.

Goodbye Jeannie with the light brown hair.

In respect of Jean's wishes there will be no services.