BOMBER MEMORIAL

DIANE J. VOLKMAN JOHNSEN ~ Class of 1958
July 22, ,1940 - May 3, 2012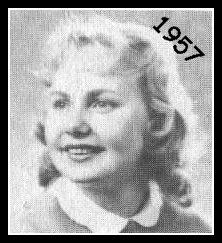 I was born July 22, 1940, in Woodlake, MN to Mary Adams and Walter Volkman. I died after a short illness of cancer in the early morning on May 3 at the age of 71 at home in my bed, surrounded by my family and pets.

Because of the Depression, my father was in the CCC Camps. He thought the Pacific Northwest was so beautiful and when Hanford opened up, he decided to move the family there. Later we moved to Benton City and from there to Cape Girado, MO, and then Vienna, IL, where along with my brothers Kenneth and Bob I attended a one-room schoolhouse. We returned to Richland where my father worked for J. A. Jones. I attended Marcus Whitman, Carmichael and Columbia High School. In 1957, I married Peter V. Johnsen who was stationed in the Navy. We had our only child, in 1959 in Alameda, CA. We lived in Long Beach and also Bremerton.

After Peter got out of the Service we returned to Richland where Peter eventually got a job as a Hanford Patrol officer.

I took up oil painting, ceramics, quilting, cooking and with my friend Muriel made lots of Christmas cookies enjoyed by family and friends.

I discovered my passion for genealogy and spent years filling over 50 binders with my research. A special thanks to the Church of Jesus Christ of Latter-day Saints for making these records available free of charge on the internet.

Later on, I discovered another new passion, which was working with the elderly. I was employed at Richland Lifecare for several years where I met many good friends and made friendships that continue to this day. Later I became the Activities Director at Tri-City Retirement in Pasco, where I met even more friends. It was a joy working with the employees and getting to know the residents.

I retired after my husband Peter was diagnosed with cancer in order to take care of him. Peter passed away after a short illness in October, 2009. A special thank you to my sister-in-law Carol Volkman for going above and beyond during my last journey.

My father Walter, my brother Bob ('60) and my husband Peter preceded me in death.

I am survived by my mother Mary Volkman, my brother Kenneth Volkman ('61), my sister-in-law Carol, my daughter and son-in-law , my nieces Yvette, Erica, Dawn, Terri and Stephanie and my many relatives and friends. I am also survived by my beloved pets Bailey Pug and cats Flash, Blackie, Little Jinx, Smokey and Missy, as well as four adopted outdoor cats.

In lieu of flowers, consider making a donation to a local no-kill animal shelter of your choice.

Published in the Tri-City Herald on May 4, 2012.