BOMBER MEMORIAL

VONDA SUE STEVENS GROSSHANS ~ Class of 1959
1941 - August 24, 2013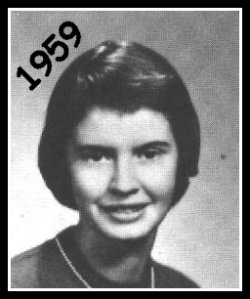 Vonda was a selfless giver, loving, caring, considerate, and compassionate, and was a friend to all who knew her. She was an amazing sister, mother, Oma, and proud military wife when she finally succumbed to her valiant two-and-a-half-year battle with cancer on August 24th, 2013.

Not unexpectedly, she was mentally sharp to the end and more concerned with everyone else than herself. She was proud to have celebrated her 50th wedding anniversary with her beloved husband John H. Grosshans earlier this year. Together they toured the world, with stops in Germany, NY, ID, TX, CA, and WA, collecting friends and memories along the way. Most recently they have enjoyed taking the RV back and forth between AZ winters and WA summers. Vonda was truly an incredible woman - in addition to being a devoted wife and mother to her two sons, John and wife Susan and Jeff and wife Annie, she took great pride and care in being a grandmother (she preferred to be called Oma) to her 4 grandchildren (JR, Heidi, Justin and Hudson) and the addition of 4 step-grandchildren (Dane, Ryan, Alexis & Andrew). Her grandchildren were her pride and joy.

The youngest of four children herself, Vonda maintained a special and incredibly close relationship with her two brothers, Ralph ('45-NAB-RIP) and Leon ('51), and sister Karolee (RIP) throughout the course of each of their lives. She will be remembered with great love and care by the many whose lives she touched.

A celebration of Vonda's Life will be held on Sunday, September 8th, 2013, at Horton Hall, 4350 Grapeview Loop Road, Grapeview, WA 98456 (by the fire station), from 3pm to 5pm. The family encourages friends and family to bring stories and memories of Vonda to share at the celebration. In lieu of flowers, the family asks donations be made in Vonda's name to Sound Homecare & Hospice, which has provided much care and comfort to many. They can be reached at 360-493-5900.

Published in the Tacoma News Tribune on August 28, 2013.

Guest Book.