BOMBER MEMORIAL

THOMAS MARK "TOM" THORSON ~ Class of 2002
July 31, 1983 - May 3, 2014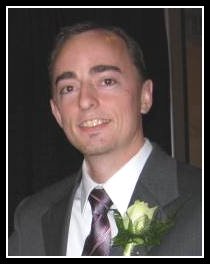 Tom, 30, passed from this life on May 3, 2014, in Richland. He was born on July 31, 1983, to Murray and Susan Thorson in Richland and was the oldest of three.

Tom was nurtured in a loving Christian home where his family is active in Columbia Bible Church. He attended Bethlehem Lutheran School in Kennewick through the 8th grade. He loved learning from his father construction and engineering when the family home was built, academics, running and playing with the dogs, and sports, especially distance running and spending time with family.

At Richland High School, he was an enthusiastic member of the cross country team where he was district champion in 2000 and team captain in 2001. He enjoyed serving as a counselor at the Flathead, MT, Cross Country Camp. He volunteered with Habitat for Humanity and was an active volunteer in Child Evangelism Fellowship in high school. In high school, he wrote his goals of character traits which were loving-kindness, integrity, diligence, humility, and self-control, all of which describe Tom to this day. He graduated from Richland High School in 2002, where he excelled in math, science and drawing.

Tom attended WSU where he earned a B.S. in Architecture in 2006. His mind was very creative and he had a photographic memory. While his younger brothers also studied engineering at WSU, Tom earned his B.S. in Civil Engineering in 2008. After graduation, he supervised the construction of Meadow Hills Veterinary Center South. Currently, he was employed as a civil engineer at Energy Solutions.

Tom enjoyed being with family. He selflessly helped and loved his paternal grandparents. He participated in many regional fun runs, including Bloomsday, Tri-City Turkey Trot, and placed in the 2004 Sun River Marathon. He attended Bethel Church in Richland.

He was preceded in death by his grandmother Alma Baugh and his grandfathers Dr. Clarence Baugh and Russ Thorson.

He is survived by his parents, Murray and Susan Thorson, brothers Dr. Michael (Candi) Thorson and LTJG Robbie Thorson; niece Claire and nephew Landon. He is also survived by his grandmother, Virginia Thorson; his aunts and uncles: Dr. Mark (Karen) Thorson ('66); Marcia (Chris) Jensen; Robert (Theresa) Baugh; Charles (Carolee) Baugh; Alice (Gary) Meyer; and Richard (Susan) Hopkins. His cousins include Kristi, Daniel, David, Kathy, Lisa, Amy, Stacey, Tyrone, Kelvin, Spencer, Derek and Nathan.

In lieu of flowers, contributions may be made in Tom's memory to Child Evangelism Fellowship or the Union Gospel Mission.

Memorial Service at Columbia Bible Church, 202 S. Van Buren, Kennewick is on Saturday, May 10, 2014, at 2pm.

Published in the Tri-City Herald on May 8, 2014.

Legacy Guest Book online till 6/17/14

Express your thoughts and memories in the online guest book at Einan's Funeral Home.