BOMBER MEMORIAL

DONNA DILLARD MATSUMOTO ~ Class of 1947
1930 - September 2, 2014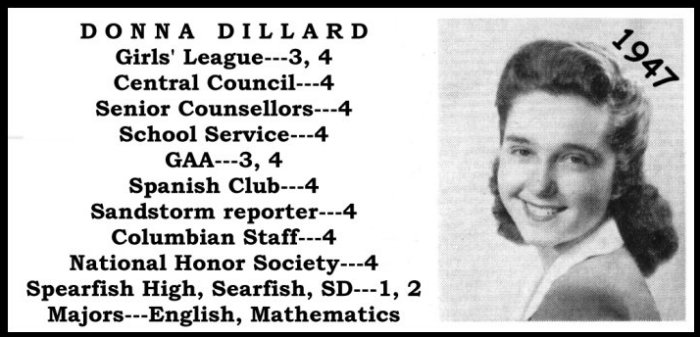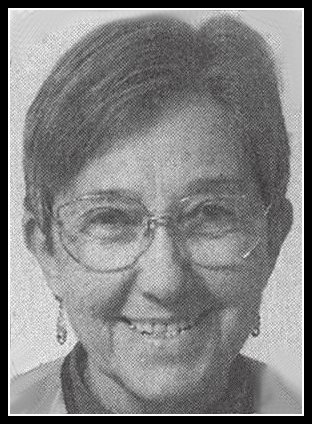 Donna passed away in Richland on September 2, 2014. Born in 1930 in Rapid City, SD she was the youngest child of Edith and Hubert Dillard, Sr. and 18 years younger than her brother, Hubert, Jr.

Donna played and worked on the family ranch as a child, not entering school until she was 8. A quick study, she graduated from Richland's Columbia High School as validictorian of her class in 1947 at the age of 16. She was a proud Richland Bomber and then moved on to Eastern Washington College in Cheney where she earned her bachelor's degree at 19.

She started work at the Hanford area as a lab technician with General Electric, but soon demonstrated an aptitude for programming the room-sized computers of the day. That launched a career programming generations of computers for Hanford contractors including Battelle and Boeing Computer Services.

While at General Electric, she met Bill Matsumoto, and the two married in February, 1954. She and Bill raised two sons, spending family vacations camping and salmon fishing off the Washington coast. Donna loved gardening, and for years any summer day was likely to find her in the yard tending to her rose garden or cooling down with a tall iced tea. She played contract bridge with Bill in a local bridge club and continued to play with friends for years into her retirement. Her home was a library anchored by a love of the language and by the Webster's Third International Dictionary, and she enjoyed terrorizing her sons and their friends around the Scrabble board.

Donna was preceded in death by her husband, Bill.

Donna is survived by her sons, Steve (Tami) and Allen (Christine); graddaughters, Mallory and Grace; brothers-in-law, Allen Matsumoto (Janicea) and Ronald Matsumoto; nephews David, Don, Hugh, and Ralph; and nieces Amy and Darlene.

Mom, Grandma, Donna, your good humor sustains us still. Thanks for that. We'll miss you.

A fall memorial is being planned.

Published in the Tri-City Herald on September 7, 2014.