BOMBER MEMORIAL

HARRIET "JEAN" ENSOR McGREW ~ Class of 1948
December 19, 1930 - January 5, 2014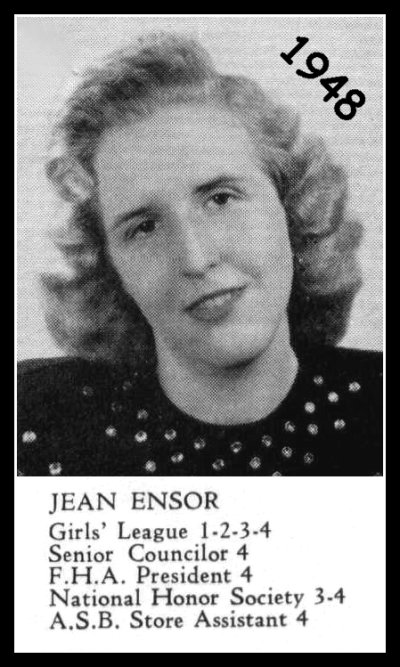 The Lord called Jean home on January 5, 2014. She was born on December 19, 1930, in Spearfish, SD to John C. and Josephine Ensor. They later moved to Eastern Washington where Jean's father worked at Hanford during World War II.

Jean graduated from Richland's Columbia High School in 1948. She received a Bachelor of Science Degree in Home Economics from Washington State University in 1952 and a Master of Arts Degree in Adult Education from Colorado State University.

While attending Colorado State, Jean met Lonnie McGrew and they were married in 1960. They adopted identical twin girls, Jan and Ann, in 1964, and settled in Republic, WA where Lonnie worked as a Washington State University extension agent. Lonnie took a WSU Extension assignment in Port Townsend, WA and the family moved to the little town of Chimacum, WA. Not long after their move to Chimacum, Lonnie died (1969), leaving Jean a widow with two small children.

Jean and the girls moved to Kennewick to be close to her parents. She accepted a position with Washington State University/Franklin County Extension as the Home Demonstration Agent and worked for two years before becoming a full-time mother to her growing twins.

Jean was a dedicated member of the WSU Extension Volunteer Program. Her love of sewing, teaching youth and adults, and excellent organizational skills were in constant demand in her dearly loved Clothing and Textile Advisor Program and also the 4-H Program. Jean was active as a WSU volunteer in the Tri-Cities and Walla Walla until 2009, when she moved to El Mirage, AZ to be closer to her children and grandchildren.

She was preceded in death by her husband, Lonnie, in 1969.

She is survived by her two daughters, Jan McGrew Rarick and Anna McGrew Ballard as well as grandchildren: Jacob, Taylor, and Sean and a cousin Elaine Dennis.

Jean was a faithful care giver. She was loved by many friends and was the beloved matriarch of her family in Arizona. She will always be remembered for her incredible sense of humor, her great passion for life, and her wonderful smile and friendship. She will be truly missed by everyone who shared the special gift of having her in their life.

We will love you for all eternity, Grandma. God bless you in the Kingdom of Heaven, Mama.

A graveside memorial service will be held in the Tri-Cities in the spring.

Published in the Tri-City Herald on January 8, 2014.

Jean's Guest Book has been archived and is no longer available.