BOMBER MEMORIAL

THOMAS OLIVER "TOM" McMillin ~ Class of 1948
September 9, 1930 - May 27, 2014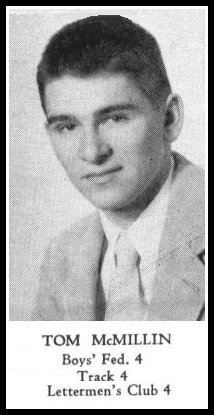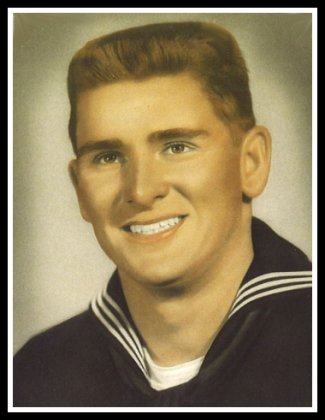 Tom, age 83, born September 9, 1930, in Green Bay, WI passed away May 27, 2014, at Sacred Heart Hospital in Spokane.

Tom's high achieving "head of the game" approach to life was evident very early as a he skied through the snow at age four to attend class in a one room school house. In grade school he was expert at shagging balls at Lambo Field for 25 cents each. He was a Packer fan for life. His strong work ethic motivated him to deliver one hundred newspapers daily by bicycle during winter snows.

Tom's family moved to Richland in 1943 for a new career at Hanford. He soon became acquainted by providing courier service by bicycle and duties as an altar boy at Christ the King Church. He graduated from Richland's Columbia High in 1948, holding records in track & field. He then entered Gonzaga University in Spokane, majoring in engineering and continued as a track star. Tom was a life long dog lover and cared for the Gonzaga mascot bulldog in his dorm room, having him sleep under his bed. Go Bulldogs! We can't leave out his WSU Cougs who he ardently supported and cheered on.

Tom served in the Navy Seabees on active duty from 1951 to 1955. He was stationed in Korea during that war for one year. The local children treated him to fried grasshoppers!

Later Tom formed McMillin Brothers Constructors along with brother, Jerry. Prominent projects included work at Hanford, Center for Graduate Studies - WSU in Richland, bridges, dams, retail stores and more.

His many loved activities and interests included deep sea fishing in Alaska, Hawaii, Costa Rica and Campbell River in BC and earned memberships in the Tyee Club for salmon fishing. He also enjoyed hunting in the Bob Marshall Wilderness in Montana, gold mining in Montana and Costa Rica, plus gardening and fruit orchards. Bird watching was a strong interest and the osprey nesting poles along Highway 240 were built by Tom.

He was a collector of antiques, art treasures, books, tools, military history, Indian lore, big band music such as Guy Lombardo and John Phillips Sousa marches, plus John Wayne and Jimmy Stewart movies.

Tom's many volunteer contributions are well known. The widely recognized Regional Veterans Memorial, a focal point in Columbia Park, was completed in 2004. He was also proud to have been awarded the distinctive title of Kennewick Man of the Year in 2010. Tom was also honored with the "Warriors Medal of Valor" from the Native American Nations of the USA, presented by the Yakama Tribal Council.

Tom was preceded in death by his father and mother, Donald and Florence McMillin, second wife, Joyce and special dogs.

He is survived by wife, Cherie; children, Michelle Evans (Willie), Michael, Patrick; Scott, Tom (Lisa), and Mary; siblings, Jerry ('50), John (Sally), and Mary Riddle ('52) (Dixie); ex-wife, Jackie Westfahl (Dick); grandsons, Benjamin (Veronica and children Catalina and Benjamin), Tyler, Matthew, Travis, Austin, Zachary, favorite uncle, Jim Van Gemert (Rita), De Pere, WI (Green Bay Packer season tickets holders); numerous nieces and nephews.

Tom loved life and people. His concern and generosity for each individual was on whatever level from the heart and left a lasting impression. We all feel blessed to have shared in his dynamic personality and continue to reap benefits from his many contributions, both public and private.

Tom would, once again, want to thank his many loyal friends, supporters and workers who unselfishly donated time, money and labor to help his creative dreams materialize. He knew how to pick a great team, whom he admired and respected, each fulfilling a necessary part of the final picture.

Tom was happy at home, busy each day with favorite activities, such as planning new projects and watering his tomatoes until the very end. We will always love and miss him greatly, but believe and accept that he is now in God's loving care.

A celebration of Tom's life will be held Saturday, June 14, 2014, at the Regional Veterans Memorial at Columbia Park in Kennewick at 11am. A private family interment will be held at Resthaven Cemetery in Richland.

Donations may be made in Tom's name to any Veteran's charity of your choice or the Benton-Franklin Humane Society.

Express your thoughts and memories in the online guest book at Einan's Funeral Home.