BOMBER MEMORIAL

ELBERT LEO "KELLEY" KELLEY, II ~ Class of 1950
December 17, 1932 - April 4, 2014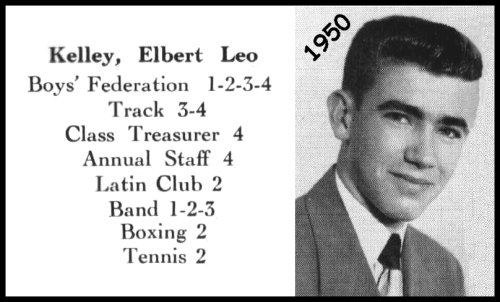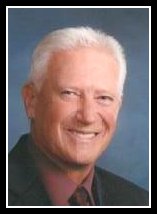 "Kelley", loving husband, father, grandfather, great-grandfather, brother, uncle, and endless friend peacefully passed away on April 4. He was at his home surrounded by family and friends after two years of a hard-fought battle with cancer.

Kelley was born in Old Hickory, TN to Elbert Leo Kelley, Sr. and Hazel Jones Kelley on December 17, 1932. He and his two younger sisters Betty and Barbara were raised in Richland after their father moved to Hanford to serve the Manhattan Project.

A Bomber who graduated from Richland's Columbia High in 1950, he then attended David Lipscomb University in Tennessee and Pepperdine University in California before joining the Air Force. He finalized his Bachelor of Science degree at Abilene Christian College in Texas. During his tenure in the Air Force he was promoted to Staff Sargent – impressive for less than four years in the military. Kelley returned to the Tri-Cities where he raised his family, held an established career and retired after 30-plus years at the Pacific Northwest National Laboratory.

Kelley lived life with grace, humility, and love for all. His competitive edge kept him actively engaged in a variety of sports and adventures ranging from basketball, fast pitch softball, and his daring "manures" as a pilot – to winning numerous field trial championships with AKC registered hunting dogs – to his final love of golf where he bought his home on the Meadows Springs golf course. He loved the golf course and membership where he contributed as a Board member and was the Club President for two years.

While very logical and analytical, he always maintained a sense of humor and loved laughter. His logic was overshadowed by his love for family and friends. Kelley adored his children, grandchildren and marveled over his great-grandchildren. Invited by a dear friend in 1997 to vacation in Cabo, he continued to go each year with the "gang" to golf, laugh, and build wonderful memories that will last a lifetime.

He was preceded in death by his parents and sister, Betty Kelley Tuggle ('53).

Kelley is survived by his wife Susan – soul mates who complimented each other. Kelley is also survived by six children united in love and friendship – (1) Linda Petrilli (husband Ric, daughter Nicole, husband Erik and children Aiden, Ava and Asher), (2) Michael Kelley (children Megan and Jackson), (3) Debra Hovley (husband Ben, children Jared and Kelsey), (4) Jenny Diaz, (husband Pedro, children Isaac and Emily), (5) Julie Lindstrom (husband Casey, children Taylor and Chase), and (6) Andy Stitt (wife Melynda, children Ian, Sophie and Drew). He is also survived by his first wife, Joyce Johnson, and sister, Barbara Riggs ('55).

A "Celebration of Life" will be held on Friday, April 11th at 6pm at Meadow Springs Country Club in Richland. A private inurnment will be held with family at Sunset Memorial Gardens at a later date.

In lieu of flowers, donations to the Tri-Cities Cancer Center or the Kennewick Humane Society would be greatly appreciated.

Express your thoughts and memories in the online guest book at Einan's Funeral Home.