BOMBER MEMORIAL

CHARLES WAYNE WESTMORELAND "CHARLIE" ROSE ~ Class of 1950
December 28, 1932 - October 7, 2014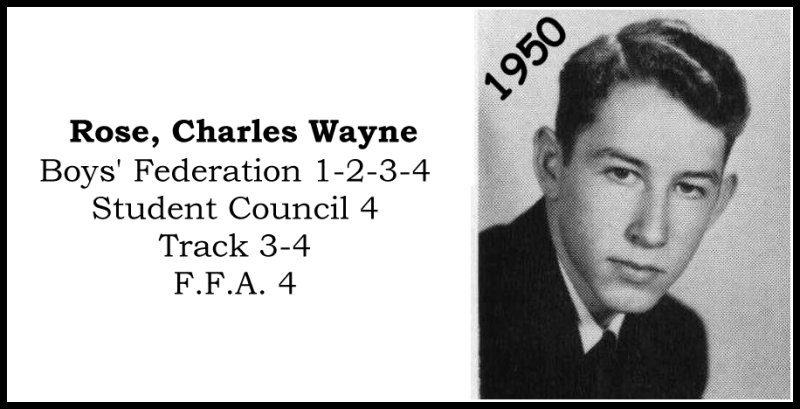 Charlie passed away on October 7, 2014. Born in Sidney, AR on December 28, 1932, he was the oldest boy and the second oldest of six children born to Zack and Vona Rose.

In those days, living on a farm in Arkansas with no running water and no electricity, meant that you received a tremendous amount of responsibility at a very early age. His mother relied on him to assist her in caring for the other children on a daily basis, but even more so during the years his father was in the Navy - the Second World War. Charles was about 12 years old at that time. His father moved the family to Richland in 1946 and he graduated from Columbia High School in 1950.

Charles worked every summer in the grapes, for the City of Richland, and any other job he could get to save money for college. He graduated from the University of Arkansas in Fayetteville, AR as an architect. He was immediately drafted and served in the military. He met a beautiful young French girl named Mitou while stationed in France and on his return to the United States they were married. They had two wonderful and artistic sons, Fred and Greg. They settled in the Carmel, CA area and Charles' homes became know as the "Charlie Rose Homes". He was a very well known and respected architect in the Carmel and Monterey area. However, he also designed places at Lake Tahoe, a 5-Star restaurant at Lahaina on Maui, and Bend, OR. Charles' wife passed away at an early age and Charles later married Priscilla McKeown. They moved to Washington State. They traveled both in the US and in Europe. They went dune buggying, skydiving, rafting down the Colorado river, and many other adventurous activities. He had spent the majority of his life bent over his drawing board listening to classical music while he created beautiful and lasting works of art. He did not participate in a lot of socializing as his work was very demanding. He was a very quite man but when you spent time with him you learned what a wonderful, deep and intelligent man he was. One year when he was designing a home for Doris Day in Carmel Valley she invited him to come down to her home in Los Angeles for Thanksgiving. He went and when he came home he had an adopted Beagle dog which Doris gave to him. He was alone at that time and she felt he needed a dog.

Charles was preceded in death by his first wife, Fanny Guillaume "Mitou", his parents Zack Rose and Vona Westmoreland Rose, his sister Joan Rose Wheadon ('49) , and a brother who died in infancy, Jack Rose.

Charles is survived by his wife Priscilla McKeown Rose; two sons Fred Rose (Mary Jo Rado) and Greg Rose (Siobhan McClure); siblings: Ginger ('55) Rose Alexander (Jack ('55)), Glen ('58) Rose (Carol), and Mary ('60) Rose Tansy (Robert); numerous nephews and nieces and extended family members.

A memorial service is planned in the spring on the beach of Carmel, CA.