BOMBER MEMORIAL

JERRY RONALD BROWNING ~ Class of 1956
February 15, 1938 - November 6, 2015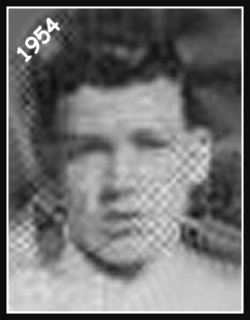 ~
~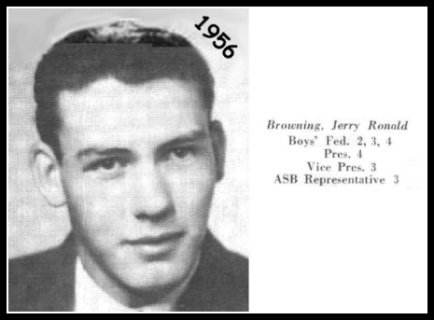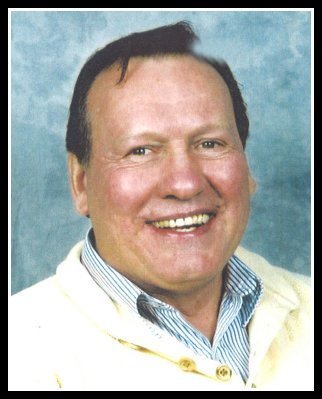 Jerry, 77, passed away on Friday, November 6, 2015. Born in Covington, Kentucky, he was the seventh of nine children born to Ben and Margaret Sutton Browning.

After a few years in Kentucky, the family moved to Crafton, PA and then to Kiona, WA.

Outside school hours, Jerry and his siblings helped their parents build a motel in Benton City from the foundation up, which the family operated for many years. He loved yo-yos and went to the state championships, where he placed second after the spindle on his yo-yo broke. He was athletic and spent many happy hours biking, playing sports, and swimming in the Columbia River.

In 1956, he graduated from Richland's Columbia High School. He then attended WSU (Pullman), graduating with a Bachelor of Architectural Engineering. Shortly after graduation he was in a near-fatal car accident, surviving only because a doctor was in the first car on the scene.

After a lengthy recovery, he hitch-hiked around Europe before being hired as a structural engineer at a large firm in Hawai'i. Soon afterwards he was encouraged by Kent Nixon, a close friend from university, to move to Cranbrook, British Columbia, Canada. He met his first wife, Heather Cameron, and together they raised a family at Moyie, BC. Kent and Jerry built a flourishing business (Nixon and Browning, Architects and Community Planners) specializing in schools, health facilities, commerical and civic buildings. They successfully completed more than 250 projects in the Kootenays and southern Alberta, Canada. His marriage to Heather ended in the 1990s.

He moved first to Tonapah, Nevada, and then to Bow Island, Alberta, Canada. Jerry was a life-long seeker of spiritual answers and his quest took him in many unusual directions before finally finding the Revival of Canada (R.O.C.) Christian Ministry in Coaldale, Alberta, Canada. which is how he met his wife Margaret. They had been married nearly 11 years at the time of his death.

Jerry ran many 10k and 15k races and several marathons. He loved gospel, country and '50s and '60s pop music. He was a great dancer and a photography enthusiast. He had a distinctive sartorial style, favouring bright colours, cowboy boots, flashy blazers, bolo ties and Hawai'ian or cowboy shirts.

He loved kids and was always up for a game of Frisbee, a wrestle, or some Rummy-O, Monopoly or poker. He was a skilled fly fisherman. He was a huge movie buff and watching them was a critical source of comfort during his final months. His favourite memories were of trips to the US, especially on his motorcycle. He loved to laugh.

Jerry died eleven months after being diagnosed with ALS.

He was predeceased by his parents, siblings: Norma Wright, Larry Browning ('48), Pauline Woods ('48), Janet Noga, Phyllis Phelps ('54), Michael Browning, and David Gale Browning: niece Patty Wright; and nephew Tom Noga.

He is survived by his loving wife, Margaret; his sister Nancy Allen ('52); children: Susan Browning (John Bradshaw), Steve Browning (Leona), Jennifer Browning (Richard Baverstock), and David Grexton; step-children: Susan Kopp (Stacey), Mary Blatz (George), Ramon Peters (Carolyn), Pete Peters (Susanne), Lena Derkson (Rob), Danny Peters (Wendy); twenty-three grandchildren; three great-grandchildren; many nieces and nephews; and friends.

A memorial service was held November 14, 2015 at R.O.C. Christian Ministries in Coaldale, Alberta, Canada. Jerry's Memorial was live-streamed.

Messages for the family can be left in the Martin Brothers Guest Book.

Published in the Tri-City Herald on November 14, 2015.