BOMBER MEMORIAL

NORMAN DALE "NORM" MERRILL ~ Class of 1950
August 11, 1931 - February 16, 2016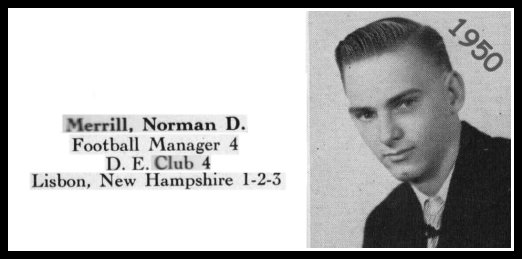 ~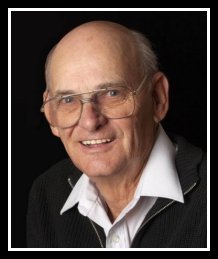 Norm, age 84, passed away peacefully with his family by his side on February 16, 2016, at his home in Anaheim, California. He was born in Lisbon, New Hampshire, to Clyde and Bernice Merrill on August 11, 1931.

In 1949 he moved from Lisbon to Richland to follow his older brother George Merrill. Norm graduated from Columbia High School in 1950 and then served in the U.S. Army for two years during the Korean Conflict. After his honorable discharge from the Army, Norm worked for the Army Supply Service in Richland. It was in Richland where Norm met the love of his life, Bonnie LaJune Sorenson, whom he married in 1955. Norm worked at Hanford in quality control for over forty years for numerous contractors retiring from Westinghouse Hanford in 1993. He was a member of UA Local 598, Plumbers and Steamfitters Union.

Upon retirement, Norman and Bonnie moved to Ocean Shores, WA to build their dream home in the trees. It was at this point in Normís life where he and his wife Bonnie traveled in their motorhome throughout Canada and to nearly every state in the United States. Norm enjoyed returning to his beloved home state and being a true New Hampshirite; he jokingly said he was required to bypass Vermont.

Norm had a great passion for collecting vintage cars and was keen on restoring and traveling in them. The range of his collection was many, but his prize cars were a 1947 Lincoln Continental Cabriolet and his 1956 Bentley Roadster.

After leaving Ocean Shores, Norm and Bonnie relocated to Prescott, AZ and then recently moved to southern California to be closer to their son.

One of Normís greatest joys was talking with his son, Dale, about Daleís job and regularly providing sound career advice. Never having completed college himself, Norm was extremely proud of his son, who not only finished college but became the Dean of the College of the Arts at California State University Fullerton.

Norm loved to tease and bring a smile to peopleís faces. His sense of humor and love of life brought joy to many.

He was preceded death by his older brother George Merrill and his youngest son Todd Lee Merrill ('80).

Norm is survived by his loving wife of 61 years Bonnie; their oldest son Dale Merrill; son-in-law Tony LaMark; step brothers Donald Rollins, Eugene Rollins, and Dale Rollins; step sister Bev Fletcher; sisters-in-law Frances Frazitta and Joyce Springsteen; brother-in-law Noel Sorenson (Connie); cousin Maxine Tyler; and many, many nieces and nephews all of whom he deeply cared about.

Norm will be interred next to his youngest son Todd Lee Merrill who died in a tragic automobile accident in 1980. A Graveside service was held at Sunset Gardens on February 27, 2016.

Express your thoughts and memories in the online Guest Book.