BOMBER MEMORIAL

DAWN LaBELLE WRIGHT McALLISTER ~ Class of 1952
October 15, 1934 - February 9, 2016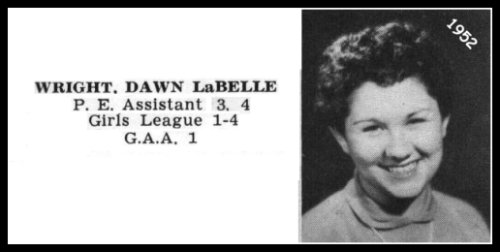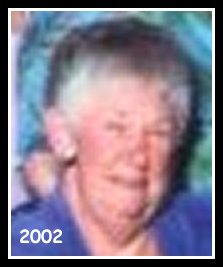 ~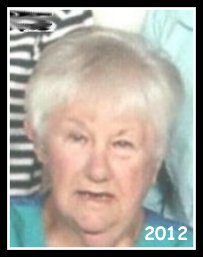 Dawn was born on October 15, 1934, in Fallon, Nevada, and passed away February 9, 2016, in Everett, Washington.

She had many illnesses in her lifetime and was a 3-time cancer survivor. Her final was a massive stroke in January 2014, that left her extremely impaired.

Her family moved to Rchland where she graduated in 1952 a proud Richland Bomber. She attended all of the class reunions including her 60 year in 2012. She enjoyed visiting with all of her old friends who still lived in Richland along with all her old classmates who traveled back for the event.

She went on to attend BYU and returned to Richland where she met and married J.W. "Bill" Payte. They resided in Richland, Wenatchee, and Seattle and had 3 daughters. They divorced in 1974. With her daughters grown, she followed her passion for astrology. She passed her tests and became a "Professional Astrologer". Her proudest moment was when she received the printed Business License for "Dawn's Astrology Corner".

In addition to being a daughter, sister, and mother, she was a waitress, Radiation Badge Processor, Phone Operator, Receptionist, Accounting Clerk, Financial Aid Officer, and County Court House Clerk.

She met and married Gerald E. McAllister in July, 1983 in Reno, NV. She tried to retire in 1987 and moved to Soap Lake, WA where she enjoyed for a little while the peace and quiet and her swimming pool. She got bored and found work at Sun Lakes Park Resort for a couple of summers and then moved on to work at the Grant County Courthouse.

She is survived by her sister, Kay Huff; daughters: Cheryl Montgomery (George), Stacy Payte (Ross Craig), and Karen McClure; three granddaughters, one great granddaughter; many nieces and nephews; husband, Gerald McAllister; step sons; and a step daughter.

There will be a scattering of her ashes at a later date.