BOMBER MEMORIAL

JOHN GILMORE "JACK" HANTHORN ~ Class of 1956
1938 - 1990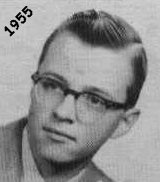 ~


John Gilman "Jack" Hanthorn, born Oct. 11, 1938 in Cuyhaga Falls, Ohio, moved to Richland, WA in 1946. He graduated from Columbia High School, Richland WA in 1956 and worked for General Electric at Hanford after high school. He married to Carolyn Rae Grunner, 1960 in Richland, WA and transferred with General Electric to Phoenix, AZ.

Jack was survived by his wife Carolyn; son John Howard Hanthorn, born July 2, 1962 in Phoenix, AZ; sister, Alice Hanthorn Johnson ('59); and brother Dave Hanthorn ('63).

Jack died 1990 in Phoenix, AZ.